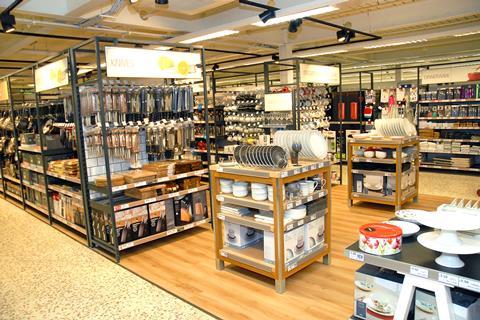 Stores in England will be told to cordon off non-essential products, if they are sold in separate departments, under rules to be brought in as part of Boris Johnson's new lockdown.
The Grocer understands the UK government has told retailers it will not go as far as the Welsh ban, which forced vast swathes of non-essential goods to be closed off in supermarkets and c-stores across the country, when it launched its ongoing Covid 'firebreak'.
Supermarkets will be allowed to continue to sell non-essential items when they are in "mixed aisles".
However, in talks today the government told supermarket bosses new restrictions would be introduced in the second lockdown on the sale of such items when they were sold in seperate areas of the stores.
Retailers described the move as "confusing" and warned that it could lead to a backlash from consumers, like that seen in Wales.
Many supermarket clothing departments, including Asda with its George units, clothes departments in M&S food and F&F in Tesco, will fall foul of the restrictions, due to come into force this Thursday.
One source involved in the talks said: "The government have said that they are not going to force retailers to shut down all non-essential goods, like happened in Wales.
"However, those stores which have specific areas of so-called non-essential goods will have to cordon them off.
"They will not have to close off aisles where there is a mix."
The move comes despite the industry holding talks with ministers to try to stave off any Welsh-style restrictions, as revealed by The Grocer last week.
Until the plans for the new lockdown emerged, minsters in England had been keen to avoid a distinction between essential and non-essential goods, but sources said they had toughened their stance since the plans for the second phase of lockdown were revealed on Saturday, following dire warnigs from scientific advisers about the spread of the disease.
Further details on the exact goods impacted are expected to be published in the next 24 hours.
A source said: "Retailers understand that restrictions are going to come into play but what they are very keen to do is to avoid confusion and scenes like we had in Wales when retailers and their staff were having to explain to shoppers why they couldn't buy baby clothes."
The plans in England come with new data showing that during the Welsh lockdown there has been an 88% revenue increase of 'non-essential items' purchased online.
Liberty Marketing studied Google Analytics data of 10 clients who sell products deemed 'non-essential' by the Welsh government, including online beauty stores, book stores, home stores and clothing shops.
There was also a 44% increase in visits, 74% increase in products bought and an 84% conversion rate increase, all from Welsh traffic.
The Welsh government admitted its move had been to ensure a level playing field with other shops forced to close, but retail bosses warned it would only lead to an unfair advantage for the likes of Amazon and other online companies.