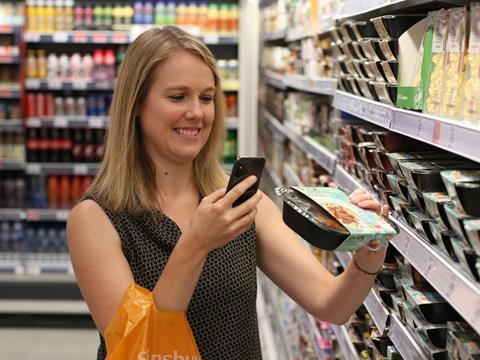 Retailers are no stranger to the concept of "scan & go". As a natural extension of the self-service checkouts and mobile scanning guns so many grocers have invested in to help speed up the grocery shopping trip, moving the same capabilities to consumers' own mobile phones would seem a next logical step.
I noted that interest in mobile scan & go schemes was really ignited with the introduction of the cashierless Amazon Go store concept. Amazon has gone one step further than scan & go systems by only having the customer use their phones to gain entry. The "scanning" process is done by clever camera technology.
Even so, after opening five Go stores in the US, news that Amazon is scouting potential UK locations seems to have spurred UK grocers into action. So much so, it really seems to have marked a tipping point in the rollout of scan & go capabilities to UK shoppers, where they scan, pay and go using their own device.
Asda, Marks & Spencer and Coop have all announced trials or pilot extensions recently, while checkout-free technology is enjoying an investment boom with the likes of startup Trigo Vision using a £7m cash injection in June to fund research and development. Moreover, research suggests up to a third of consumers would use it.
So, I would commend these grocers for keeping pace with digital consumer adoption and embracing mobile in their stores, not only for the speed and convenience it offers their customers, but also for the operational cost-savings and efficiencies that accompany its self-service benefits.
Some might argue that scan & go rollouts further stretch already pressured IT and operations in meeting the needs of all consumers, who move at different speeds of adoption. It may well be that grocers can't abandon their customer self-scanning guns anytime soon. But I would counter that the benefits outweigh the gains.
On the one hand, retailers can use its direct digital connection to help customers do much more than just checkout in-store. Once you offer the utility of scan & go, it can be used as a gateway to other footfall-boosting services, such as wayfinding or access to product information or ratings and reviews.
On the other, digitally-enabled mobile engagement while in a store can only enrich the retailer's view of who their customers are and what they do during a shopping trip. It can also provide a direct, digital connection that is carried outside of the store and can be used to join up the customer's experience online.
By negating the need for customers to actually use their mobile in the store in favour of using AI-based "computer vision" technology, Amazon Go has eliminated the best way to market to customers as they are in place, in their store, at the shelf. Only time will tell if other retailers explore this mobile in-store opportunity.
Miya Knights is head of industry insight at Eagle Eye