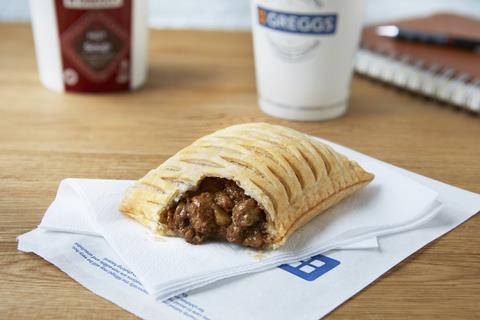 Greggs is struggling to meet Veganuary demand for its new Vegan Steak Bake, prioritising supply to shops it is already available in ahead of a planned national rollout.
The popularity of the item – which swaps out meat for Quorn mycoprotein pieces – has been "bigger than anticipated" the company said.
"Our team is working hard behind the scenes to meet demand and we're prioritising supply in the 1,300 shops in which it has already launched," a Greggs spokesman said.
"We still plan to roll out the Vegan Steak Bake nationwide and will confirm a date for all shops as soon as we can."
It is understood Greggs is working towards achieving availability across all 2,050 stores by the end of this month. The bakery chain had initially planned to roll out the item across its entire estate by 13 January.
Greggs has been selling out of the vegan bake at many of the launch stores.
"Oh crumbs… Our tasty new Vegan Steak Bakes have been so popular today that we've sold out," read a customer notice at a store in Cardiff earlier this month.
At stores still waiting for stock, a countertop display said: "We're sorry but we aren't selling them in this shop just yet. Don't worry it'll be here soon."
Greggs has launched a 'Locate a bake' website where customers can enter their postcode to find the nearest store stocking the item.
The vegan bake was launched at midnight on New Year's Day, at an event at a store on Grainger Street, Newcastle which saw queues down the street and bouncers on the door.
The bake follows the hugely successful launch of the Greggs Vegan Sausage Roll last year, which had a massive impact on its results and share price, leading to a £300 bonus being paid out to employees earlier this month.
Vegans and non-vegans alike have taken to social media to praise the bake, with many boasting how they had bought the last one at their local store.
According to YouGov BrandIndex data, Greggs's Vegan Steak Bake launch has been one of the most successful Veganuary new product releases this year. Greggs this week drew neck and neck with McDonald's – which in December launched vegan nuggets – in the index's word of mouth measure.
Both brands, as well as KFC, are enjoying a significant uptick in their consideration score – whether someone is planning to purchase from the brand in the future – following Veganuary product launches.