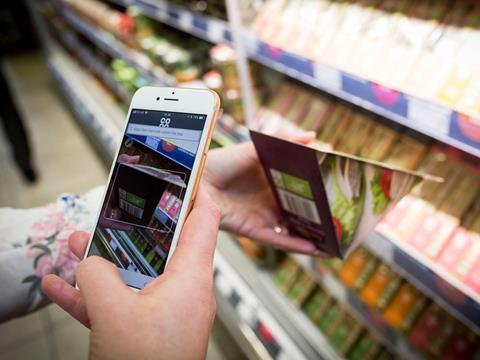 West Didsbury in Manchester is not necessarily the sort of place you would expect to stumble upon the latest in retail technology, but here it is.

This is the location for Co-op's first public checkout-free ­shopping app trial. Having first introduced Pay in Aisle to its Angel Square HQ store for employees in March, the app has been live in West Didsbury for six weeks.

Though still a trial, with the Co-op learning and ironing out teething issues, transformation and retail director Matthew Speight is confident Pay in Aisle "is now a thing we do".

Pay in Aisle is simple to use. Shoppers scan a QR code on a sign at the store entrance before going on to scan items and put them in their bag. When ­finished they press checkout and, after a few seconds when payment has gone through, they can walk out without any further interaction with staff or technology.

As with similar pay and go schemes, shoppers cannot use the app to buy age-restricted products.

Issues that continue to be worked on mainly centre around making it easier to get set up on the app. There are ­currently various steps, including adding your Co-op membership card, and a fairly lengthy process to create a Masterpass with payment partner Mastercard that links to a shopper's own bankcard.
But "customers who start using Pay in Aisle absolutely love it," claims Speight. "Many use it every day. We just need to make it a little easier to sign up initially."

Currently around 300 shoppers have signed up, apparently representing a wide demographic.

Membership scheme

The key to the scheme's future success is the link to the Co-op membership scheme, Speight says. Members receive 5% rewards on all own-brand purchases, with a further 1% going to a charity of their choice. By using the app, they no longer need to swipe their Co-op card every time they shop to get their rewards, and the amount of money they accrue is clearly displayed. More benefits could be added in the future.

Speight also sees the link with the membership card as a de facto security measure: if a shopper has gone to the effort of becoming a member, including sharing personal details, then also signing up for the app, they are less likely to be a shoplifter.

Speight plays down the risk of theft generally. "When in the 1950's we went from everything being served from behind the counter to using trolleys, the fear was that everyone was going to shoplift. That didn't happen and it's the same with this technology," he says.

Though the app won't shave much off the average visit to a Co-op store of around four minutes, it will give shoppers greater choice of payment options, particularly at busy times such as the lunch rush in a city centre store or after the large supermarkets shut on a Sunday. Co-op expects basket sizes to be smaller for those using the app, hence the provision of small free paper carrier bags at the store entrance.

The next step for Pay in Aisle will be a rollout to a further four or five stores to see how it fares in different types of outlet. For example, such a system might be particularly popular near a transport hub or a high footfall city location.

It's all part of the Co-op's wider convenience journey, says Speight. "Convenience is less about the size of shop and more about life today," he says.

"For a few years we were catching up but now we are starting to look ahead. It's all about getting the balance right between winning today and building for tomorrow."