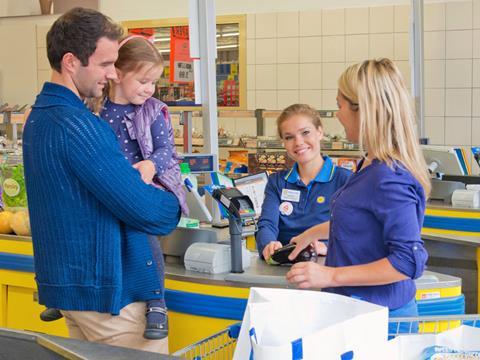 The discounters have usurped Britain's biggest three supermarkets for the first time in independent customer satisfaction ratings.

Lidl and Aldi trumped Tesco, Sainsbury's and Asda in research conducted by the Institute of Customer Service (ICS) this month, which surveyed 42,500 people about their experiences across all sectors.

Although the differences in satisfaction were marginal, the ICS warned small discrepancies were important in a competitive market and could prove "challenging" for the big four.
How the food retailers fared
Waitrose 84.6
M&S 84.6
Iceland 83.5
Aldi 82.1
Lidl 81.9
Morrisons 81.9
Asda 80.8
Sainsbury's 80.8
Ocado 80.7
The Co-op 80.0
Tesco 78.8
Institute of Customer Service customer satisfaction score; July 2016
Aldi scored marginally higher than Lidl in the research, which asks customers to rate businesses out of 10 on metrics including professionalism, quality and efficiency, ease of doing business, timeliness, problem solving and complaint handling as well as attitudes towards trust and reputation.

Its score was 82.1 - calculated by taking the average of all responses and multiplying it by 10 - while Lidl's was 81.9.

The figures marked the first time that both Aldi and Lidl had overtaken Tesco, Sainsbury's and Asda, as Lidl improved its score by 2.9 points on last year. This put it on a par with Morrisons, which scored the highest out of the big four.

ICS director Brian Weston said the findings represented "serious challenges" for the established players. "I think it suggests that Lidl and Aldi aren't just competing on price, they're also able to compete on service," he said. "On quality, they're pretty much on a par with most of the other supermarkets but they do better on price and also perform well across other measures like customer experience."

Weston pointed out that the ICS customer satisfaction data "strongly correlated" with sales - the combined share of discount retailers Lidl and Aldi has hit a record high of 10.5% in Kantar data for the 12 weeks ending 19 June.

Paul Foley, managing partner of Foley Retail Consulting and former CEO of Aldi UK and Ireland, said he was unsurprised by the high levels of satisfaction with the discounters. The low prices and lack of marketing tricks raised satisfaction among customers, he said, as did their ability to offer high availability on small ranges. Foley believed the trend was dangerous for the larger supermarkets. "It's a problem for them because they've lost their 'champion of the customer' mantle that they used to have," he told The Grocer.