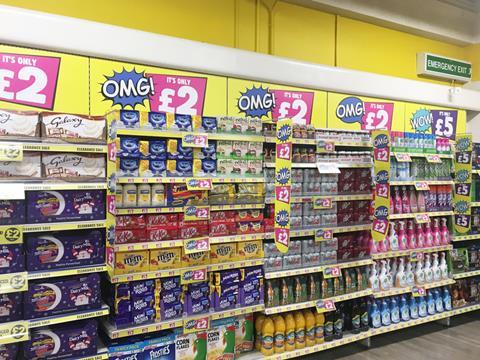 Poundland is aiming for a 2% increase in like-for-like sales as a result of a new availability drive focusing on its 600 best-selling lines.

Trading director Barry Williams said this week there was a "huge prize" for the discounter if it addressed availability issues. He said Poundland's 600 best-sellers accounted for 40% of the retailer's total sales and by driving a 5% rise in sales on these lines, Poundland would achieve a 2% like-for-like boost to its overall sales.

Poundland is fixing barcoded tickets for these products on the shelf edge. Each store will receive an individual report every afternoon at 2pm, which will highlight which products didn't make the expected sales the previous day, which Williams said would make it easy for store managers and staff to investigate and resolve any gaps.

"This probably doesn't sound like rocket science for many other retailers, but as we talk to our business and our supplier partners everyone is absolutely engaged behind this," he said.

As well as availability, the discounter confirmed a shift away from its single price offer, by introducing three other price points: 50p, £2 and £5. Williams said Poundland still wanted to keep things simple for customers and so was keeping bays for other priced products separate and well signposted. "You won't see this scattered all around the store. We will never mix a £1 bay."

Since being bought by Steinhoff International last year, Poundland has begun introducing clothing from fellow Steinhoff-owned retailer Pep & Co. It has already committed to introducing Pep & Co store-within-a-store concepts to 50 of Poundland's larger outlets and this week said it would double this to just over 100 by the autumn. Later this month it will also start rolling out a limited Pep & Co range to 577 Poundland stores.