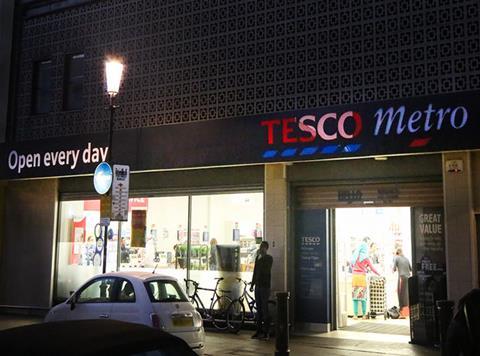 Tesco is trialling weekend 24-hour opening at seven of its London stores to tie in with the launch of all-night Tube services.

The extended opening hours will begin today and apply on Friday and Saturday nights only, when 24-hour Tube services will run on the Victoria and Central lines.

The Express and Metro stores are all close to Tube stations and typically close before the last train leaves. The majority have normal trading hours from 7am to 11pm, while a couple are open longer, from 6am to midnight.

Tesco said it was extending its hours to increase convenience for late-night and early-morning travellers. Although only a trial, the retailers said it would look at extending the hours of a further four of its stores as more Tube lines became 24-hour operations.

"London is such a vibrant and exciting place to live, work and visit and the night Tube provides people with a great way to experience the city at a time that suits them best," said Martin Smith, Tesco's London convenience director.

"At Tesco we're always looking for new ways to serve London's customers whenever it is most convenient to them. That's why we're delighted to announce these new opening hours at select stores, helping to make life easier for those either working late or enjoying London's nightlife."

The stores extending their hours are Gants Hill Ilford Express, Haven Green Ealing Express, 82 Holland Park Express, Bayswater Express, North Acton Express, Cheapside Metro and Dean Street Metro. The latter two will close at midnight on Saturdays due to Sunday trading restrictions.

Tesco said the stores would set up 'hydration stations' outside from 3am to 7am this Friday and Saturday nights to celebrate the new Tube services. Staff will hand out Tesco's Finest freshly squeezed orange juice and cold bottled water to night workers and partygoers as they head home.