Waitrose was left with an embarrassing score of just 11/100 after its Android app crashed in our latest Mobile 33 mystery shop.

Before the malfunction, the app seemed good and was easy to navigate, said our shopper. But only 14 items were added to the basket via the Android app when the error message "there was a problem communicating with the server" repeatedly popped up. After being unable to place his order for several days our mystery shopper was advised by technical support that the app won't be working for "a few weeks".

There were no such problems with the Morrisons order. At 40 minutes, it wasn't the quickest (Tesco's and Asda's apps only took 31 minutes) but availability proved key: 31 items were available to order, with two similar products purchased as substitutions deemed acceptable to the shopper. Promotions were flagged to ensure none were missed and the driver was "really polite". Unfortunately the kiwis arrived squashed, flat and mouldy - but this wasn't spotted until he had gone.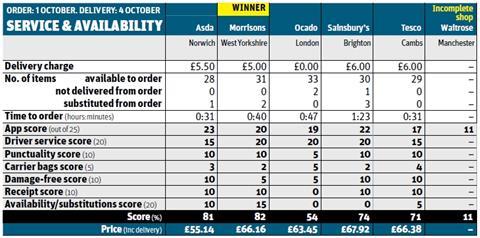 Asda was only one point behind Morrisons and ranked highest for app navigation, with its quick and simple registration, easy reading and the fact it could be navigated with just a thumb. The driver was on time but didn't offer to bring the shopping in.
Tesco and Sainsbury's had the most expensive delivery, a pricey £6 for a prime-time Saturday slot. ­

In the case of the Sainsbury's app the shopper also struggled to place an order - but it was still rated second best. It automatically ­created a favourites list, didn't freeze at any point and was "very straightforward" to use. Though the Wrigley gum was missed off the order, the driver made up for it by being "very helpful" and being up-front about the missing item.

On the Tesco app, suggestions weren't automatically made for products out of stock from the G33 list and navigation could have been better. The checkout was slow and the verification process "too small", said our shopper. On delivery the driver was polite but didn't offer to bring in the bags.

Ocado was the only retailer to offer free delivery and its app was clean, quick and had excellent product descriptions. But service disappointed: our shopper wasn't able to put in her flat number so called customer services who "made a note of it". Unfortunately this didn't get through to the driver, who tried to contact her, but she missed the call. It was later delivered at 9pm - 12 hours after it should have arrived. Two frozen products weren't delivered due to the delay.
app performance: what our mystery shoppers said
Asda: 23/25
"Very easy to read and easy to search. Very logical sections. I would rate it excellent. A smooth process."
Morrisons: 20/25
"Taking me to the website for payment was annoying, but other than that I've actually already recommended it to friends."
Ocado: 19/25
"I like the clean look of the app and despite the issues I would use it again in the hope that these were one-offs."
Sainsbury's: 22/25
"I very much enjoyed this shop, it's much easier than actually going to the store and trying to find a parking space."
Tesco: 17/25
"Overall an OK experience but not one I would use again - I do shop online but found the app cumbersome."
Waitrose: 11/25
"The app was extremely difficult to use. The Waitrose helpline simply advised me to use the website or telephone ordering systems instead."