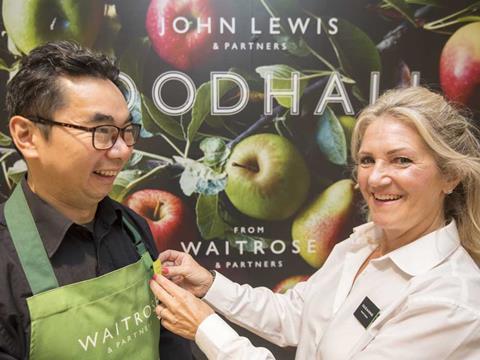 Waitrose has made significant improvements to its service and availability, new figures for the first six months of the Grocer 33 competition show.

And the improvements paid off over Christmas, with Sir Charlie Mayfield, chair of the John Lewis Partnership, hailing "the best operational performance we have seen in a number of years" as key to a 0.3% like-for-like sales increase, "despite a sharp reduction in the level of promotions".

Citing good availability (up 165 basis points), low wastage, ease and speed at the checkout, and "partners focused on providing better customer service" Mayfield added that Waitrose was on track to grow profits for the full year.

Figures from the Grocer 33 show that having been the worst performer among the five supermarkets at which we conduct a mystery shop each week, Waitrose's average weekly service and availability score from 13 June 2018 to 5 January 2019 was 67.8 out of 100, up from 62.3 for the same period a year ago.

This has taken it up to third place, behind Tesco and Sainsbury's. While our figures show improvements in store standards, its rise has been largely driven by better availability, with its overall percentage rising to 95.3%, up from 92.9% the previous year. Tesco and Sainsbury's jointly lead on availability, with 95.7%.
Waitrose MD Rob Collins said he was "pleased" with its performance.

"It's our partners who have helped create our best availability and service levels, and there is a lot of change with regards to our supply chain behind the scenes," he said. "But there's still more to do."

In the meantime, the performances of rivals Tesco, Sainsbury's and Morrisons have declined, our figures show.

Tesco was leading the competition at the halfway stage a year ago. And the UK's biggest retailer again performed best over the first half of our year. But it registered the greatest decline in standards. Tesco's overall score for the past six months was 70.3, down from 75.2 the previous year. Its availability percentage fell 100 basis points.

But Sainsbury's, which won the Grocer 33 in 2018 after a strong performance in the second half of the year, saw the biggest decline in availability, down 160 basis points. And its average score was down from 72.4 to 68.9. A spokesman acknowledged a major overhaul of its in-store management structure had affected its performance.

"We always aim to offer the best possible service and availability, and we're proud to have won the Grocer 33 customer service and availability awards at the Grocer Golds for the past six consecutive years," he said.

"We carried out a major restructure in our stores, which coincided with the particularly hot weather and increased trade. We're confident in our standards and that we're back on form."

Asda improved its average score from 66.5 to 67.1, while Morrisons was left propping up the table as its score fell from 66.4 to 65.