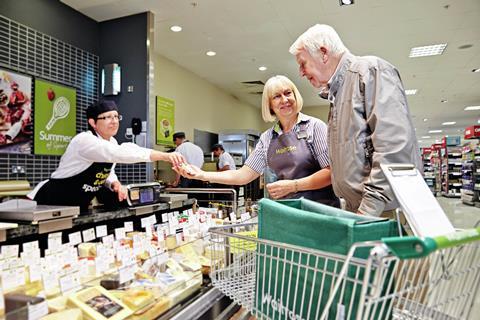 Waitrose has ramped up its response to the coronavirus pandemic with a host of new measures, including further restrictions introduced on all food products, protected shopping hours for elderly and vulnerable customers, and a £1m community fund to support stores.
The £1m support fund will be distributed by Waitrose shops to local communities across the UK to help those in need.
John Lewis Partnership said help could include setting up additional local delivery services to support those self-isolating, the vulnerable, the elderly and those looking after them; delivering boxes of essential grocery items to local care homes and community groups; and donating products to create care packages for customers to share with vulnerable neighbours.
The Grocer understands the fund amounts to about £3,000 for each Waitrose store, with store managers given discretion for how best to use the money.
"At this time of national crisis, the John Lewis Partnership is wholeheartedly committed to ensuring we support customers and, in particular, the elderly and most vulnerable," said JLP chairman Sharon White. "Our commitment to contribute to the wellbeing of the communities we operate in has always been at the heart of our business."
More than 2,100 John Lewis staff have been made available to help in Waitrose shops to cope with the surge in demand caused by shoppers panic-buying across the country.
"Partners have been outstanding, supporting each other and responding to the huge surge in demand at Waitrose," White added. "More than 2,100 John Lewis partners are helping in Waitrose shops this month and supporting deliveries; I am truly grateful to everyone."
From today, Waitrose has extended the restrictions on buying in store to three per customer for any grocery products, excluding fresh fruit & vegetables as well as Easter confectionery, beer, wine, cider and spirits, and two packets of toilet roll. The supermarket previously had limits online only on some hygiene products.
It follows similar moves by all major supermarkets this week in efforts to prevent customers stockpiling, which has left shelves empty in all sections of stores and seen large queues of shoppers outside stores prior to morning opening times.
Waitrose also announced this morning that from Friday the elderly, the vulnerable and those who look after them would have a prioritised and dedicated shopping hour at the start of trading.
Waitrose.com was also working on a way to support its vulnerable customers who needed food delivered, the supermarket added.
Waitrose has also now closed all cafés and rotisseries and temporarily suspended making coffees to free up extra hours for staff to keep shelves stocked with food and essential items. In some cases, branches will be closing early to give staff time to restock shelves.
JLP is also exploring offering online classes and advice from expert staff across John Lewis and Waitrose to customers having to self-isolate at home, including craft and cookery classes and advice for expectant parents.
The group is also setting up a support fund for its staff who are under tremendous pressure dealing with unprecedented demand from shoppers.
"To ensure the wellbeing of partners, who are working long hours to meet the needs of customers, the partnership is setting up a support fund to aid those who are facing additional costs as a result of the pandemic; such as childcare costs," JLP said. "Partners will also be offered free meals at work."