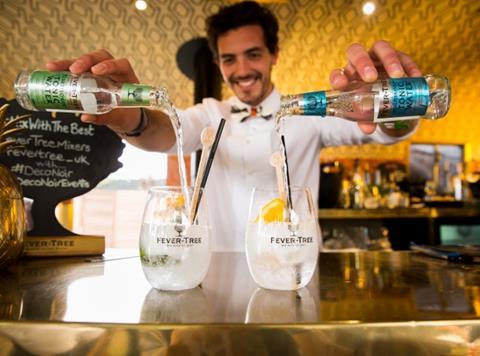 Two complementary drinks businesses at either end of the growth curve updated the market this week, but both Diageo (on the spirits side) and Fever-Tree (which adds the mixers) posted good results, with both benefiting from the booming gin (and tonic) sector and international growth.

Premium mixer producer Fever-Tree once again outperformed market expectations, with booming gin & tonic sales driving UK sales up 96% in the full-year period on top of growth of 118% in the previous year. It also overtook Schweppes to become the bestselling mixer brand in Britain's off-trade. It predicts a 66% uplift in full-year sales to £169m following a 58% sales jump over the second half of 2017, and shares jumped another 6% on Wednesday after upgrading its profit forecasts for the 12th time since it listed in 2014.

However, the stock ended the day down 1% to 2,409.6p - still up 115% year-on-year and 7.6% in 2018 - as investors mulled how long this momentum can continue.

Fever-Tree is also growing internationally, up 42% in Europe and 39% in the US, but far more significant growth, particularly in the US, already seems priced in to its lofty valuation.

Shore Capital summed up: "Our issue is that with the levels of growth delivered the ability to continue to beat expectations gets more difficult."

Meanwhile, the strengthening pound shaved £15m off operating profits and £134m from sales at Diageo in the first half.
However, shares rose 1.5% to 2,588.5p by lunchtime on Thursday as Diageo also beat analyst expectations. EPS before exceptional items were up 9.4% to 67.8p, beating forecasts by 3.5%, accompanied by a 4.2% rise in organic sales to £6.5bn.
But growth of 6.1% in operating profits to £2.2bn was below consensus. Société Générale analyst Laurence Whyatt said the beat in sales and EPS would be welcomed by the market. "The biggest surprise is the result in Asia-Pacific at more than double the consensus organic growth rate, as well as continued strong growth in Europe," he added.