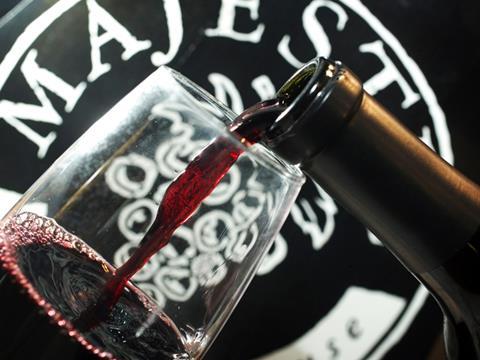 Majestic Wine was back in the black this week after it reported a return to annual pre-tax profit, but a downbeat diagnosis of UK market conditions muted City celebration of the numbers.

Majestic posted a full year pre-tax profit of £8.3m after reporting a loss of £1.5m last year, driven largely by the improved performance of its Naked Wines business. The online business posted underlying sales growth of 11.3%, having "grown considerably" in the US and Australia.

Progress was solid at the business' core Majestic Wine division. The retail unit delivered underlying sales growth of 1.9%, though profitability was flat as improved cost controls were offset by foreign exchange pressures on margin.
Group CEO Rowan Gormley said the group was "making headway despite headwinds". But these headwinds spooked the market on Thursday after Gormley said: "We expect the UK market to remain tough, possibly even tougher than last year". He added that trading since year-end had been "harder" than the prior year in the UK.

City Index analyst Fiona Cincotta noted that Majestic had also rewarded investors with a hefty increase in the dividend. "But by the sounds of the outlook statement, the bigger dividend could be akin to a stiff drink," she said.

"Combining higher costs with increasing pressure on revenue can be a noxious cocktail for share prices. But management clearly thinks they're on to something good with their new retail strategy. Today's result could be offering investors a taste of what's to come, if they're patient."

Shore Capital's Phil Carroll added: "The market may jump on the statement from the company that the UK market was tough in 2018 and trading since the year end has been harder in the UK. That said, we note the business has a robust model with 20% exposure to the growth opportunities in the US and Australia."

Majestic shares fell 3.6% in early trading back to 434p on worries over the comments on the UK market. However, by lunchtime the shares had risen back to 458p - up 1.8% for the day.