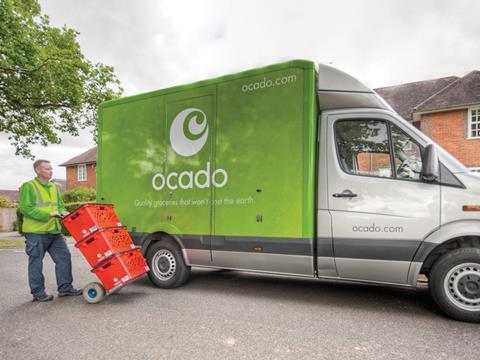 Ocado's share price surge came to a halt on Tuesday after it revealed its annual profits had fallen back into the red. The online grocer's shares dropped more than 12% in early trading after it revealed a £0.5m 52-week loss despite double-digit revenue growth as funding international expansion and new technology hit its bottom line.

Headline revenues for the 53 weeks to 3 December were £1.46bn - a 12.7% rise on a comparable basis with last year's 52-week turnover of £1.27bn. However, profit before tax for 2017 slumped to just £1m from £12.1m last year, representing a loss of £0.5m on a comparable basis. And Ocado warned its 2018 profit would be hit by capital investments and the establishment of its newly penned international partnerships.

Ocado's shares had more than doubled from 238p in November to a multi-year high of 551.4p in late January after signing international supply deals with France's Casino and Canada's Sobeys. However, analysts questioned whether the current share price level was sustainable.

Bernstein noted the guided jump in capex to £210m in 2017 - a rise of £40m. The broker added: "Current share price reflects either unrealistic expectations of future deal profitability or an unrealistically high number of deals." SocGen added: "We remain cautious on the potential ­profitability of international partnerships."

To help fund expenditure, Ocado announced a £155m cash placement of approximately 5% of its issued share capital. Even with City doubts about Ocado's share price value, the offer was reportedly more than three times oversubscribed. This mitigated the early morning share price fall, with Ocado ending Tuesday down just 2.7% to 479p, albeit on top of a 5% decline on Monday. The stock remains up almost 20% so far in 2018.

Elsewhere, revenues at Carlsberg fell 1% to DKK61.8bn (£7.4bn) in 2017 as volumes crashed 14% in Russia and pre-tax profits more than halved to DKK3.5bn (£417m). Shares in the brewer slumped 3.3% to DKK717.50 on Wednesday.