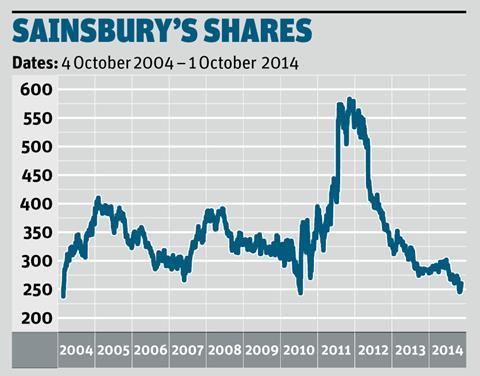 If the Tesco crisis dominated the City last week, it was Sainsbury's turn in the uncomfortable glare of the spotlight this week.

The supermarket's shares plummeted by 7% to a decade-long low of 234p on Wednesday after announcing a 2.8% drop in like-for-like sales and warning of further sales falls in the second half of the year. The fallout took down the other supermarkets too, with Morrisons and Tesco dropping 5% to 159.9p and 3.1% to 180.4p respectively.

The Sainsbury's sales drop was less than the 3% to 4% decline analysts had feared. The market's negative reaction seemed to be down largely to the stark commentary from new CEO Mike Coupe, who warned of a "perfect storm" facing the major grocers amid the "most challenging" conditions he had seen in his 30-year career.

Sainsbury's was also driven down by its admission it is undertaking a strategic review, which has led to speculation its dividend will be slashed. Tesco recently cut its interim dividend by 75% - although Morrisons resisted the urge to follow suit, analysts expect action from Sainsbury's.

Analysts at JP Morgan Cazenove wrote: "It is unrealistic to believe that its quality positioning will make it immune to Tesco's inevitable price repositioning. We remain of the view that the negative top-line trends will likely lead to a major cut in the dividend and a potential rights issue."

Earlier in the week, Tesco's share price seemed to be affected by speculation about a potential rights issue, but Tesco and Sainsbury's both played down their need to raise new equity.

Shore Capital's Clive Black said the results represented "material reverse" in Sainsbury's trading, arguing: "Sainsbury's is now under-performing the UK grocery scene, something we haven't seen very often over the last decade."

Elsewhere, Associated British Foods jumped up 4.5% to 2,679p on Tuesday after Credit Suisse upgraded the company to "outperform" from "neutral;" it argued the share price had overreacted to ABF's weakness in sugar as that accounts for just 10% of its earnings.