Coronavirus has caused some food and drink share prices to soar but it's not been as simple as adding extra sales
For food and drink retailers and suppliers, 2020 will be wholly defined, share price-wise, by the coronavirus pandemic. So who have been the winners and losers?
As so much grocery shopping has shifted to online, it is little surprise the top-performing stocks in the UK and internationally are direct-to-consumer brands – Naked Wines and HelloFresh.
Shares in Naked, uncoupled from Majestic last August, soared 160%-plus as sales grew 80% in its first half, driven by huge growth in the US, UK and Australia. Repeat customer sales were up 66%; new customer revenues soared 166%. Broker Jefferies said this "outstanding" 2020 performance had seen "the scale benefits that Naked has unlocked and the rapid growth in the US market that has been catalysed".
The UK's other online star has been Ocado, which has battled capacity constraints to take advantage of booming grocery sales. Ocado's share price was once again driven by its international licensing potential, but the retail arm – its grocery jv with Marks & Spencer, which went live in September – also boosted the share price this year, as sales jumped 27% in the first half and 35% in Q4. The share price is up almost 70% to 2,151p. Just over three years ago Ocado shares were trading at less than 240p.
German meal kit company HelloFresh fared even better, tripling its share price. Last week it raised its sales expectations for the fifth time this year to nearly three times its initial 2020 target.
Notably, the UK's biggest IPO, the £4.5bn float of Hut Group, and the £6bn merger of Just Eat and Takeaway.com, are also both in the online space.
Supermarket concern
In contrast, despite surging online sales, extra costs incurred to fulfil demand have lowered supermarkets' margins and their share prices have illustrated this trade-off all year. Sainsbury's shares are broadly flat, Morrisons' have fallen 10% and Tesco's are down 11%.
The City remains concerned about the supermarkets' bottom lines given the shift to lower-margin online sales, while the string of business rates repayments were "a massive own goal" according to Peel Hunt's Charles Hall.
In the US, Walmart bucked this trend by finding a buyer for Asda, while grabbing a key share of the grocery e-commerce market. Its shares are up 24%.
As to M&S its saving grace has been its half share in Ocado Retail, but its exposure to GM and the travel and city centre locations of its Simply Food outlets saw its shares fall to a low of 74p. Though it's since 'recovered' to 137p, it's still down 40%.
Outperforming all these players on the retail side have been B&M and Pets at Home. In B&M's case it's benefited from the enforced lockdown closure of GM rivals, thanks to its selection of ambient and frozen grocery goods, pushing its first-half UK fascia sales up nearly 30%.
Pets at Home like-for-like first-half sales were up a more modest 5.3%, but investment in e-commerce and online sales of more than 65% has taken the share price to new heights.
Similarly, while its stores shut, Hotel Chocolat's online growth helped support its shares, up 4% despite the wider slump in retail stocks.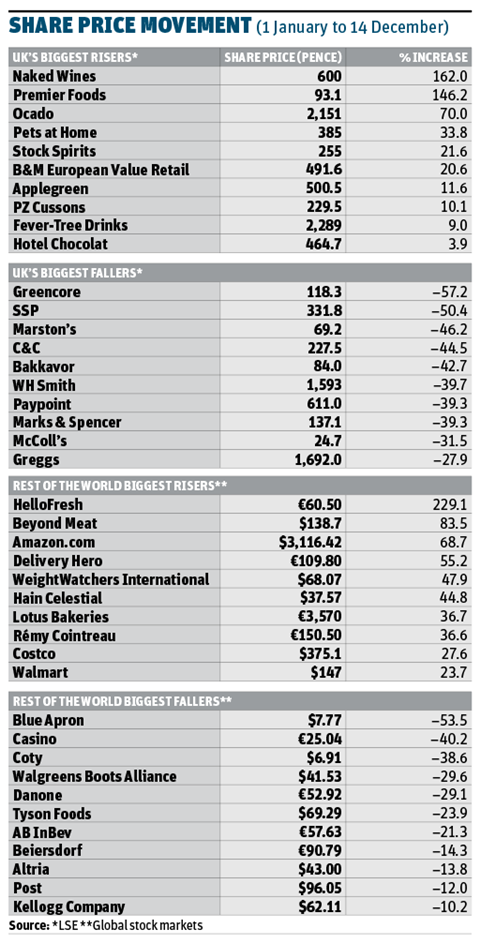 Suppliers
While the supermarkets have been unfancied, some of their most unfashionable suppliers have come in from the cold.
The best illustration is former market pariah Premier Foods, which has been transformed in 2020 into a growth stock and core FTSE 250 player.
Premier's near 150% share price growth is owed partly to a spike in demand for its traditional pantry favourites. But Premier's is not just a Covid story – the City also warmly greeted the results of its strategic review.
"Premier is an undisputed winner," says Jefferies consumer analyst Martin Deboo. "It has sorted out its pensions problems, reduced its debt burden and re-accelerated topline growth by taking market share."
Shore Capital's Darren Shirley agrees: "It's a business that has come out of the investment shadows, aided by lots of hard work over many years."
Other supermarket suppliers have also made hay in 2020, notably meat supplier Cranswick (5%), as well as branded consumer health and household goods businesses like Reckitt Benckiser (6%) and PZ Cussons (11%) benefiting from consumer focus on health and cleaning.
It's a similar story globally, with ambient giants like Kraft Heinz (7%), General Mills (10%) and McCormick (8%) all back in favour, Hain Celestial (45%) recovering and P&G (10%) and Colgate (24%) enjoying strong share price growth alongside significant extra sales .
Consumer giants Unilever (0%) and Nestlé (–5%) put in a more muted performance reflecting exposure to out of home markets, but their breadth of portfolio geographically and by product has mitigated the impact. Nestlé was also notable for longer-term strategic actions taken during the pandemic, including acquisitions, such as US healthy meals brand Freshly, and divestments.
Danone (–29%) also kicked off a strategic review after what Deboo calls "a horrendous year". Water sales collapsed and its plant-based units are struggling for growth, as is its North American yoghurts business.
Foodservice exposure
It comes as little surprise that the market's big losers in 2020 are those most exposed to lockdowns.
Shares in sandwich and food-to-go supplier Greencore (–57%) and Upper Crust owner SSP Group (–50%) have more than halved as sales slumped 70% and 95% respectively at the height of the lockdown, while food-to-go player Bakkavor (–43%) and travel retail specialist WH Smith (–40%) have also been savaged.
While things look grim for foodservice players, SSP, Greencore, WH Smith and Greggs (–28%) all successfully raised cash during the crisis to bolster their balance sheets. And while Greencore noted that its performance during the second lockdown was much improved, the rollout of coronavirus vaccines has given a number of stocks further momentum.
Peel Hunt's Hall comments: "Greencore and Bakkavor's shares have not done well but their retail customers will have felt they have done a decent job. Their relationships won't have been impinged."
Shirley adds: "Greencore has already picked up £75m on business from Adelie and there's going to be further pressure on smaller players in the supply chain, so you can see them coming out of this with less competition and well positioned to drive medium term growth."
Mixed fortunes
Like foodservice, restrictions on pubs and hospitality have taken their toll on drinks suppliers, with AB InBev (–21%), Marston's (–46%) and C&C (–45%) most exposed.
Diageo fared somewhat better, down only 6%, supported by its higher exposure to the robust US market, while its acquisition of Aviation Gin shows it is still tailoring its portfolio. Rémy Cointreau's overperformance (37%) was also supported by exposure to areas with less dramatic downturns like China and the US.
It's a similar story with soft drinks players, who have suffered through the loss of out-of-home and hospitality sales. The best soft drinks stock has been Fever-Tree. Shares are up 9% this year thanks to strong in-home performance, while UK soft drinks players like Nichols (–24%), AG Barr (–12%) and Britvic (–11%) were hit by falling sales before the shares rallied post-summer.
Global players like PepsiCo (+6%), Keurig Dr Pepper (+5%) and even Coca-Cola (–4%) have had a better time of things, supported by wider portfolios, despite key carbonated brands being hammered.