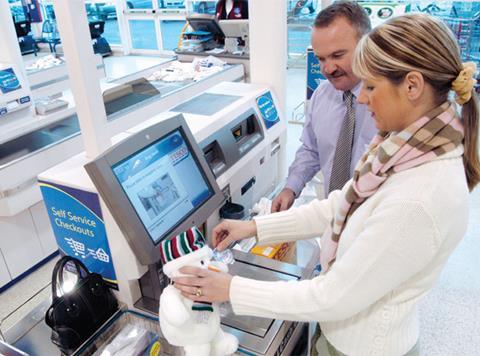 Dave Lewis begins his gargantuan task at Tesco today with more advice ringing in his ears than a new England football manager.
He's been variously advised to engage fully in the price war, resist getting dragged into a price war, to split Tesco's estate into upmarket/mid-market/budget outlets or to premiumise its value range.
Little surprise then that he told staff he intends to "take some time to get to know the business better, to understand the challenges and opportunities we face".
One decision that has been taking already was Friday's announcement that Tesco is to slash its half-year dividend by 75%. That action was perhaps as responsible as the profit warning for the subsequent collapse in share prices across the sector as it suddenly made the level of dividends paid out by Morrisons and Sainsbury's seem unsustainable.
By mid-afternoon on Monday, Tesco was trading 8.5% down since the market closed on Thursday evening, while Morrisons was down 7.3% and Sainsbury's dropped by 5%.
A portion of those share price falls reflect the fact that the pressures facing the supermarkets are even more fundamental than had previously been feared.
The falls also acknowledge that Tesco seems to have chosen to sacrifice dividend payments rather than margin, and there is an expectation that its rivals must inevitably follow suit.
In recent years the supermarkets have become defensive stocks in every regard. Not only has the sector traditionally been seen as defensive in terms of food sales being more resistant to wider economic downturns than other sectors, but the listed supermarkets have long provided some of the most attractive dividend yield plays on the market.
Unsustainable
The supermarkets have recently been offering the top yields on the entire FTSE after their recent share price falls. For example, with Morrisons' share price at 177.5p, its 13p dividend per share offers a market-leading yield of 7.3%.
Now the market seems to view these dividend levels as unsustainable. As profits inevitably come under pressure there is an increasing belief that supermarkets will look to claw back a significant portion of these dividend payments to retain some cash for strategic flexibility.
On Friday analysts at Deutsche upgraded Morrisons, arguing the market was overly bearish on the supermarket. However, Deutsche also argued that Morrisons' dividend will have to be aggressively cut.
"We now forecast a 50% dividend cut, which we believe is largely priced in given the current 7.4% yield," Deutsche analysts wrote. They also cut dividend expectations from 13.65p to 6.8p, given their expectation that Morrisons will not generate £1bn from property disposals over the next three years.
It was Sainsbury's turn this weekend, with The Sunday's Telegraph's Questor column tipping the supermarket's dividend the next to be cut.
It argued that Sainsbury's profits will almost certainly head south, leaving the dividend "looking shaky". The paper predicted: "Lower profits place Sainsbury's full-year dividend on the chopping block. This wouldn't be the first time either. When Justin King took control more than 10 years ago he cut the dividend by more than half."
It noted that a halving of profit margin would lead to pre-tax profits of around £360m for the year ended March 2016, meaning earnings per share of 16p and a dividend cut of over 50% to 8p. "It might not fall that far but south will certainly be the direction," the Quester article concluded.
One of the current imponderables is the extent to which these dividend cuts have already been priced in to the current share price. Certainly the recent falls must reflect expectation that the yield play on these shares will become less attractive. But Tesco's dividend cut was widely expected (albeit perhaps more severe than previously thought) and the market's reaction suggests the shock of expectations becoming reality can still send share price southwards.
More widely, the dividend cuts would be just another illustration that the old certainties attached to the supermarket sector have changed. It now seems almost inevitable that investors are going to have to get used to the sector's previously market-leading dividend yields becoming just another grocery staple that are past their expiry date.