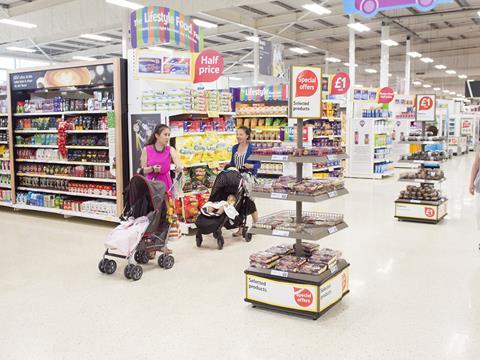 The City was expecting upbeat results from a resurgent Tesco this week, but the scale of progress under Dave Lewis took the market aback.

Putting in their place any remaining doubters of the wisdom of its Booker tie-up, Tesco beat expectations on almost every measure as it announced its final annual results before the £3.7bn wholesaler acquisition is included in its accounts.

The UK's biggest supermarket posted a 28.4% increase in group operating profit before exceptional items to £1.6bn, while pre-tax profits soared some 795% from £145m to £1.3bn - beating market consensus of £1.2bn. Group sales were also up 2.3% to £51bn, excluding fuel sales of £6.5bn, while UK like-for-like sales growth in the fourth quarter remained a solid 2.3%.
The outperformance even enabled Tesco to bring back its dividend for the first time in three years, paying shareholders out 3p per share.

Richard Lim, chief executive of Retail Economics, commented: "A laser-like focus on the core UK food business continues to deliver impressive gains. Deeper price investment, a more focused range and further asset disposals have slowed the loss of market share and boosted further improvements in profitability."

The grocer restated its target of finding £200m of Booker synergies within three years, including £60m in the first year post-merger. Booker itself also posted like-for-like sales growth of 9.9% as a further fillip for the combined group.

Tesco also said it was on track to meet its target of reducing overall costs by £1.5bn and improving operating margins to between 3.5%-4% by the end of its 2019/20 financial year. Bernstein analyst Bruno Monteyne speculated the strong results could put Tesco on course to hit this margin target earlier than anticipated. "This could be one year early," he suggested. Tesco shares surged 7.2% to 225.4p on Wednesday in the wake of its strong financial results and were up a further 3.4% on Thursday to 233p - its highest since early 2015. The shares were still as low as 165.4p in June 2017.