Brits are going nuts about nuts. And not just any kind of nut: flavoured and natural nuts are to thank for booming value sales of 8.5% to £402m in the bagged nuts category, on volumes up 6.2% [Kantar Worldpanel 52 w/e 9 November 2014].
This article is part of our Bagged Snacks Digital Feature 2015.
In a category traditionally dominated by own label, brands are cashing in on our growing appetite for nuts and driving growth with an increasing array of fancy flavours from KP's 'grazing mix' to Peperami's 'double crunch' meat flavoured peanuts.
And sales are soaring. Value sales of flavoured nuts are up 6.9%, on volumes up 5.7%, while natural nuts are flying from the shelves with value sales up 10.9%, on volumes up 7.1%, and nut mixes are delivering value growth of 8.6%, on volumes up 7.8% [Kantar].
KP marked its 'shift of focus' to unsalted nuts with the February 2014 launch of its three-strong Grazing Mix in a bid to deseasonalise the category (KP says 40% of nut sales are at Christmas). The NPD comes in 125g resealable packs in triple, yoghurt-coated raisin and red berry flavours, helping the brand grow value sales by 5.7% to £50.7m, on volumes up 8.8% [IRI 52 w/e 6 December 2014].
"One in three consumers only buy KP nuts and sales have contributed to over half of the growth of the nuts segment," says Andy Riddle, branded sales director at KP Snacks. "Over the last year we have put a lot of energy into developing a range that really meets the needs of consumers, unveiling new formats and flavours to appeal to a broad audience of snackers."
That range includes the launch of £1 price marked packs across KP's best-selling flavours of peanuts in convenience stores and independents in October and the launch of KP Big Bag sharing nuts in flavours including salt & vinegar and spicy chilli in time for Christmas 2014.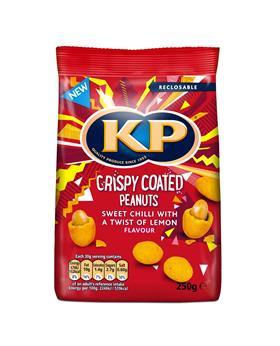 Unilever is also tapping into the flavoured nuts category with the June 2014 launch of Peperami double crunch peanuts in a licensing deal with one of the category's key players, Humdinger. With 54% of shoppers looking for a trusted brand when choosing savoury snacks, Unilever says putting 'the distinctive, smoky flavour of Peperami' in a nut format is a no-brainer, using the strap line 'share, snack & scoff'.
Yorkshire-based Humdinger also make Marmite cashew nuts, which has become the best performing of the top ten nut brands with value sales up 40.6% to £1.7m, on volumes up 51.6% [IRI], as well as Guinness peanuts and cashews.
"Flavoured nuts have driven growth in the segment and we're seeing that they're being purchased by a younger shopper," says Adam Warner, senior marketing manager at Walkers, which entered the nut market with its Sensations brand in March 2012 in flavours including Californian honey & salt and Mexican smoked chilli.
"Up until the launch of Sensations Nuts there was no real brand that took the lead and championed flavour."
But in an increasingly crowded market, three years on Walkers is failing to champion sales: value sales of total Walkers nuts are down 10.7%, on volumes 8.61% [IRI], in spite of the March 2013 launch of Tiger Nuts, a mainstream range of peanuts in a crispy coating in flavours including sweet chilli and masala curry.
It's not all about peanuts, of course. After a major push behind its flavoured range in 2012, sales of US brand Blue Diamond almonds have surged 27.8%, on volumes up 8.9% [IRI] thanks to an increasing array of exotic flavours including wasabi & soy sauce and toasted coconut.
The brand has also been pushing the healthy credentials of its all natural snack almonds by targeting mums in a back to school campaign from September 2014 and new year dieters with a #MakeGorgeousGood push in January.
It seems shoppers will pay more for flavour. In 2014 the price differential between Walkers Sensations was 37.5% more than the market average of £8.02/kg. In the face of growing competition market leader KP lowered its average price by 3.5% to £6.50/kg, which was 19.1% lower than the average price of own label nuts.
Such competition has prompted the retailers to shake up their own label lines. Spar added to its own label snacking nuts range with two new variants in January, with unsalted mixed nuts and sweet chilli peanuts joining five existing lines in £1 price marked 150g packs.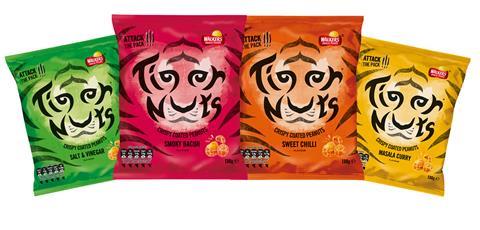 And in August 2014 Bestway added 10 nuts and snacks lines to its Best-in range, including cashews and monkey nuts.
With Tesco pioneering treat-free tills by replacing sweets and chocolate with healthier snacks including nuts in 2014, and other retailers following suit, the coming year is full of promise for the category.
"Shoppers are increasingly looking for better-for-you options that they can enjoy, without compromising on taste," says Walkers' Warner.
Next up: Popcorn isn't just for the cinema