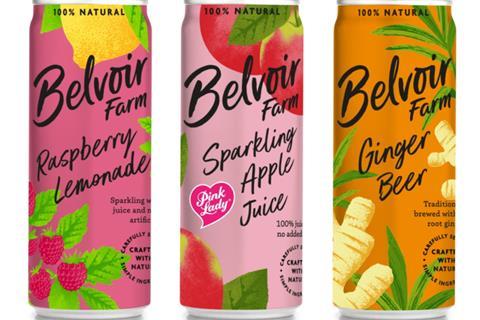 Upmarket soft drinks brand Belvoir is rebranding ahead of major expansion plans for 2021.
It has rolled out a new look designed to shake off its "classical and a bit old-fashioned" image and appeal to a new generation of shoppers, its MD Peverel Manners told The Grocer.
The new look centred on "getting nature and the wild into a bottle" he said. "Our packaging was last [refreshed in 2006], when it was very radical, and we refined it in 2010, but for 10 years we haven't really looked any different. [The new look] is less hoity-toity and posh, and a bit more natural and real, to reflect that we really are a farm."
This year would see Belvoir mount a major push into export, he added. "We're trying to get cranking in mainland Europe – we've got new listings in the Netherlands, we've got a distributor in France, where the adult soft drinks market has huge potential. It is excellent territory to play in and we are beginning to get footholds in Carrefour and Monoprix."
The brand was also looking further afield to markets such as Canada and the US. "Our aim is to grow export by 20% to 40% per year, which we think is achievable."
In the UK, Belvoir would up its focus on cans as a format, he added, having recently launched a 4x250ml multipack into the mults. "They have done really well by appealing to people working from home – it's our take on the fridge pack."
He said he was upbeat despite the coronavirus crisis having given revenues a knock. "At the beginning of the year we had big plans for selling to events, caterers and foodservice and at the end of the year had sold nothing but cordial.
"Sales are down about 15% year on year but we're fairly happy about it – we thought it was going to be about 30%. We've done better than we thought in the supermarkets."
It would also look to add a range of new products this year, he added.