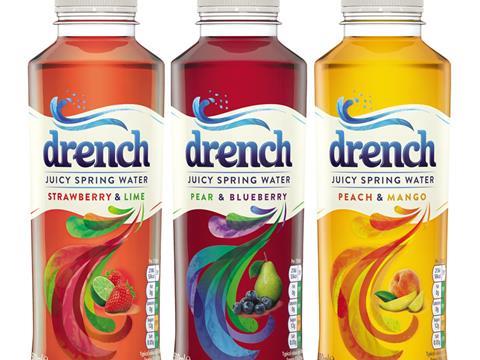 Britvic is relaunching its water/fruit juice blend Drench in a move that will see products in the range duck below the 5g/100ml sugar level proposed for George Osborne's new levy.

The new 500ml drinks will hit shelves in mid-April with new packaging and an amber traffic light front of pack for sugar, instead of red.

Britvic said the stevia-sweetened drink, which first launched in the UK in 2009 with sugar levels as high as 9.2g/100ml, had been reformulated to contain less sugar "in response to the target consumers' preferences".

Under the move, Britvic is also scrapping two of its three current flavours: cranberry & raspberry, which had 5.2g/100ml sugar, and orange & passion fruit, which had 6g/100ml.

The existing pear & blueberry will remain, plus new flavours peach & mango and strawberry & lime, all at 4.7g/100ml.

Britvic will support the move with a £2m advertising campaign, including national outdoor and in-store activity, launching in June, to try to drive sales in the peak summer period. "The typical adult consumer of 30+ is leaving the soft drinks category in favour of healthier options such as tea, coffee and water but still wants something tasty and refreshing, so there is certainly a need for a relevant grown-up solution to keep these drinkers in the category," said Kevin McNair, GB marketing director of Britvic Soft Drinks.

The move by Britvic comes as the looming sugar levy piles pressure on soft drinks companies to go further on the road to reformulation.

This week Irn-Bru owner AG Barr, whose shares are down 5% since Osborne's plans were revealed, said at least two-thirds of its portfolio would be made up of lower or no-sugar drinks when the tax comes into force, escaping any levy. Others are also racing to launch products with lower sugar, with Lucozade the latest to reveal "zero calorie" varieties this week.

Meanwhile, The Natural Drinks Company has secured nationwide listings across all Aldi and Iceland stores and is going live on Ocado from next month with a new zero sugar product called Frutree.