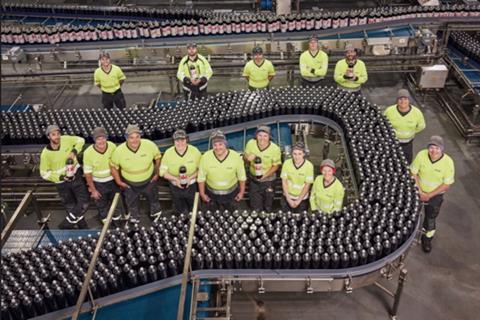 Coca-Cola Europacific Partners is to invest £31m into its Wakefield manufacturing site, Europe's largest soft drinks plant by volume.
The investment will help develop a "state-of-the-art" canning line, which will be operational in 2024 and will be capable of producing 2,000 cans per minute.
It will provide additional production capabilities for CCEP's lightweight 330ml cans, and "advanced" technologies will be incorporated to help minimise energy, water and CO2 consumption, according to the business.
Energy and water savings will come from innovations such as air rinsing, dry lubrication on conveyors and an auto-sleep function on motors.
The line will create 28 new roles and additional training to upskill the existing 500-strong workforce at the site.
Funding will also go towards infrastructure upgrades to optimise the factory for production and future innovations.
This will include the construction and fit of a new raw materials storage warehouse, plus additional utilities storage and the expansion of other facilities on site.
The investment will also support attached cap production capabilities on two of the site's lines.
The site has received £118m in investment since 2017 and this latest milestone marked another step in supporting CCEP's sustainability action plan, This is Forward, said the business.

Colleagues at the Wakefield site also were focused on attracting more diversity into the business's supply chain as part of its 'Everyone is Welcome' ethos, CCEP added. This includes encouraging women and others who might not have considered a career in manufacturing previously.
As part of these efforts, the bottler has opened up vacancies specifically for those with little or no experience of working in manufacturing.
"We're shifting hiring processes to focus on skills and aptitude rather than just historical qualifications, for example, and are offering more flexible working options to better suit a range of lifestyles," said CCEP director of supply chain innovations Vanessa Smith.
According to Stephen Moorhouse, CCEP VP and general manager for GB, the "milestone investment" would "allow us to take the next step in our sustainability journey while making positive contributions to our local community here in Wakefield".