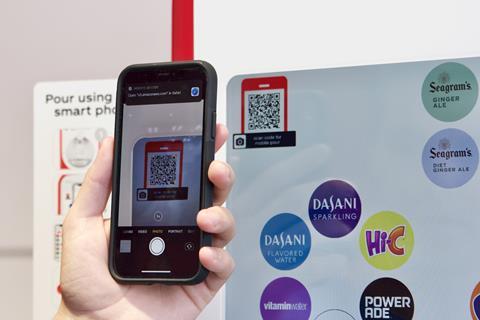 Coca-Cola has confirmed its touch-free pouring machines will be rolling out in the UK later this year.
The software update launched in the US this month, which allows customers to use their phones to operate self-service machines found in several fast food outlets.
Users hold their phone camera up to a screen display on the Freestyle machines to scan a QR code "which immediately connects to the cloud and brings the Coca-Cola Freestyle user interface to your phone," said the solution's chief architect, Michael Connor.
"You then select from the full menu of brands and flavours – and pour. The idea is to be safe, seamless and fun," he added.
The method doesn't require the user to download an app, but those with the app can access options like the ability to pour pre-saved mixes.
"When you have a tray or a sandwich in one hand, you don't want to deal with downloading an app. We took steps to make the solution super-easy, super-fast and super-reliable," Connor said.
Following trials at Firehouse Subs, Five Guys and Wendy's locations in Atlanta, the update is currently being rolled out to drinks dispensers across the US. There are about 1,000 Freestyle machines in the UK.
"The software is coming to Europe soon – and will be rolled out across our Freestyle machines in GB towards the end of the year," a spokeswoman told The Grocer.
Chris Hellmann, Coca-Cola Freestyle VP and general manager, said all its machines were safe "with recommended care and cleaning, but in these uncertain times, Coca-Cola is providing consumers a new option".
"Our partners are doing everything they can to maintain a safe and hygienic dining environment, and we're doing all we can to provide options for their guests to continue to pour the beverages they want on a platform they love," Hellmann added.