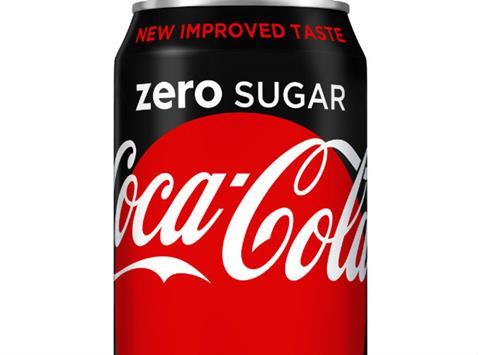 Coca-Cola today (19 April) unveiled Coca-Cola Zero Sugar as a multimillion-pound replacement for Coke Zero in the UK, as the low-calorie soda struggles to compete with its key rival, Pepsi Max.
Rolling out from the end of June, Coca-Cola Zero Sugar – which the brand insists is a new variant, not a reformulation – arrives as supermarket sales of Coke Zero have slipped 2.4% to £92.3m on volumes up 1.2%, while Pepsi Max has enjoyed a sales surge of 12.3% to £238.1m, with volumes up 11.7% [IRI 52 w/e 30 January 2016].
Research conducted by Cola-Cola last year found almost half of consumers did not know Coke Zero was sugar-free, in spite of the drink having been available since 2006.
Promising to be closer in flavour to the original variant, Coca-Cola Zero Sugar's UK-specific launch will be backed by a £10m marketing investment – Coca-Cola's biggest for a UK product launch in a decade.
The push is set to highlight the fact the NPD 'tastes more like Coke and looks more like Coke' than Coke Zero. Its look will be in line with the soda range's new 'One Brand' packaging strategy, incorporating the Coca-Cola red disc as its main design feature.
The graphics were revealed today, and grocery fridges in Mexico will be the first to display the revamped cans and bottles. They are set to roll out globally throughout 2016 and into 2017, with the UK expected to take stock later this year.
"For years we have offered people a choice: every brand we sell has a great tasting no-sugar version," said Leendert den Hollander, general manager at Coca-Cola Enterprises.
"Since 2012, our commercial strategy has focused on accelerating the growth of our no-sugar options. We know millions of people love the taste of Coca-Cola and have been working to refine the recipe of Coca-Cola Zero to match the taste of the original."
Currently, 43% of Coca-Cola sold in the UK is lower sugar or no sugar, and the new promotional strategy is designed to increase the figure to more than 50% by 2020, said the brand.