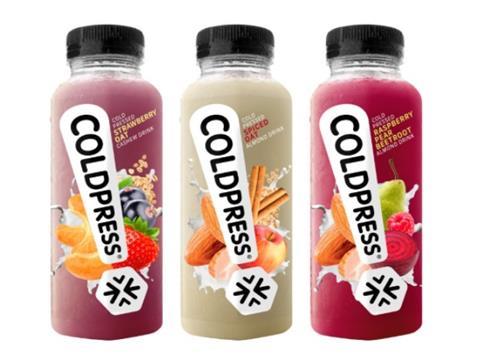 Coldpress has set its sights on on the go with three new nut-based dairy-alternative milk shakes, just one week after soft drinks giant Coca-Cola European Partners has moved on the category.
New flavours Strawberry Oat Cashew, Raspberry Beetroot Almond and Spiced Almond will roll into Waitrose stores nationwide from 1 March (£1.99/250ml), joining the brand's two existing nut-based SKUs, with an eye to mustering interest from beyond the traditional free-from market.
The NPD marked "the next pit stop in our ongoing mission to bring superior taste and nutritional depth to the masses" said the brand's founder Andrew Gibb.
The range will also be targeted at the independent health food sector, as well as hospitality and foodservice operators, airlines, delis and food halls.
It comes after CCEP last week announced plans to bring plant-based fruit smoothie brand AdeZ to the UK this year, with its sights set firmly on landing the drinks in front-of-store fixtures and convenience.
Increased competition in the sector meant "we're not all going to survive" said Gibb. "But our reason for being is we're fanatical about cold press juices. We're not going into a new category."
Some bigger players "haven't been very successful because their products are very expensive" he added. "And a lot of the time when big brands go into these new categories, it's almost defensive. It's as much about keeping new challenger brands out as it is committing to growing the category.
"But I think consumers are savvy enough that they will gravitate to the genuine challenger brands rather than the big multinationals who are just ticking a box."