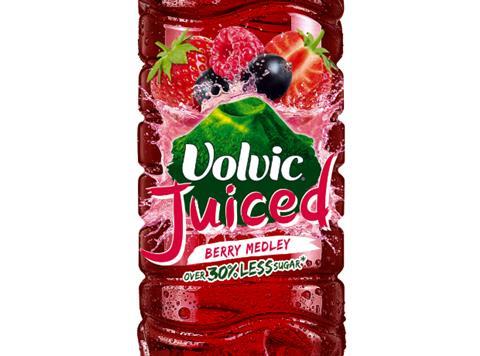 Danone hopes to spark the interest of shoppers seeking healthier soft drinks by reformulating its Volvic Juiced range to be lower in sugar.

Rolling out this month, the revamped flavoured water will see sugar content reduced by an average of 28%, with all variants containing 4.9g per 100ml, having had between 6.2g and 8g across its four variants: Orange, Berry Medley, Orchard Apple and Mango & Passionfruit. They will feature an 'over 30% less sugar' claim on pack, in reference to rival products in the category.

Alongside the launch of the lower sugar Juiced, the 50cl format is to move from a 6x50cl case to a 12x50cl version to standardise the range in line with competitors (rsp: £4.99). Both changes will be communicated via a £1m campaign throughout 2017.

A "great" product with reduced sugar increased purchase intent in two-thirds of consumers, claimed Volvic marketing manager Tom Hickton. "We know consumers are looking for soft drinks that contain less sugar without compromising on taste," he added.