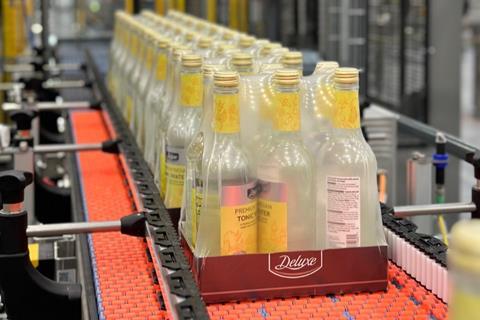 Skinny Tonic owner Happy Drinks Group has added a £5m high-speed hybrid bottling line to its production site in Liverpool.
The line enables the company to produce a range of bottles including rPET, glass, and aluminium, ranging from 200ml to one litre.
It will join the canning line already installed at the better-for-you drinks maker's facility.
The expansion would increase annual production capacity at Happy Drinks Group to 255 million 'units' and create 25 jobs, Happy Drinks said.
It follows contractual wins from the company to supply Lidl and Marks & Spencer with own-label beverages, and forthcoming listings for three of its brands in an as-yet-unnamed "major UK retailer" in January 2024.
"The installation of the new bottling line is a great win for the business and opens up some fantastic opportunities," said Happy Drinks co-CEO and founder Ian Minton. "We are already secured over 50% capacity, thanks to a blend of our own brands and successful partnerships with Lidl and M&S."
For M&S, the company manufacturers and develops new soft drink lines, while it also produces tonics, energy and children's drinks for Lidl.
The latest capex takes spend on manufacturing upgrades at Happy Drinks Group to £12m in the space of 24 months.
The company has part-funded its expansion through equity crowdfunding, closing a raise for more than £5m in March 2022.
That raise valued the business – which rebranded from its previous name Skinny Tonic Group – at £48m.
To date, it has raised almost £10m via crowdfunding over the course of three raises on Seedrs.
Alongside flagship Skinny Tonic, Happy Drinks Group's roster includes soda brand Happy Soda, clean energy drink Zero Gravity and premium craft soda Soda Punks. Its Eden Bay tonic water is stocked nationally with Asda.