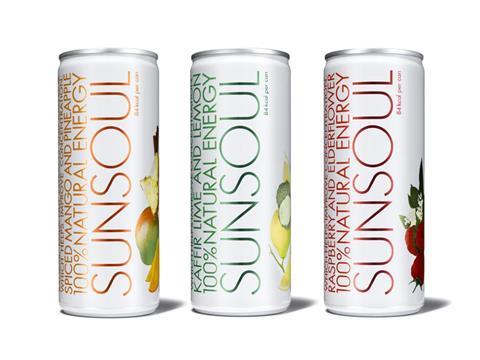 JMS Drinks is claiming a first with the launch of Sunsoul, the UK's only low-calorie energy drink with no artificial additives.

Inspired by the "busy life of a modern woman with a health-conscious attitude", the product aims to "be proudly in the hands of women" around the country.

Each 250ml can (rsp: £1.29) contains just 84 calories, with no refined sugar or taurine, and includes botanicals - guarana, kola nut and baobab - to give consumers a steady energy release while keeping within the low-calorie category. It lists its ingredients over 60% of the can's design, for maximum transparency, and is available in three flavours: Kaffir Lime & Lemon, Raspberry & Elderflower and Spiced Mango & Pineapple.

"We've always delivered 100%-natural products. That's at the heart of our vision," said Jonnie Shearer, founder & CEO of JMS Drinks, which also makes Pussy Natural Energy Drinks.

"With Sunsoul, we decided to take it a step further by getting the lowest levels of both sugar and calories, while keeping the drink 100% natural, and of course, to get the best tasting energy drink on the market."

Pussy sales fell last year by 29% to £1.5m [Nielsen 52 w/e 24 October 2015].