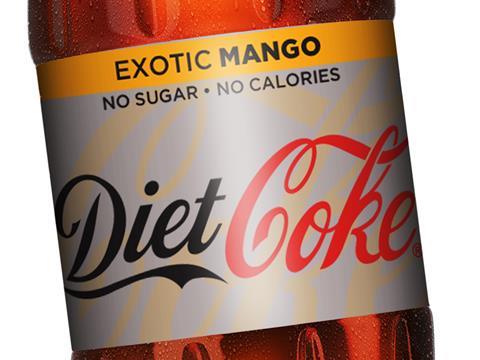 Brits have downed over 205 million extra litres of diet soft drinks in the wake of the soft drinks levy.

Since the tax came into force in April 2018, volume sales of diet carbonated drinks have shot up 13.8% to 1.7 billion litres, shows exclusive Kantar data compiled for The Grocer [48 w/e 24 February 2019]. By contrast, volumes of regular fizzy pop fell 8.8% to 823.6 million litres.

Levy-related price rises meant regular soft drinks still gained £28.4m in value. But that was dwarfed by the £243.4m gain for diet soft drinks.

Diet lines now outperform regular variants in cola, lemonade and mixers, leaving flavoured carbonates the only area where this isn't the case.
Drinks in the middle tax band were hardest hit by the shift in consumer behaviour, Kantar data shows. Those containing 5g-7.9g of sugar fell 47.2% in volume, while those containing 8g of sugar or more fell 38.3%. Zero-sugar drinks climbed 17.9% and drinks with less than 5g of sugar - exempting them from the levy - shot up 35.7%.

The figures suggest the levy, which placed a charge of 18p per litre on drinks containing 5g to 7.9g and 24p on anything containing 8g or more, has succeeded in pushing consumers towards less sugary drinks.

But Richard Hall, chairman of consultancy Zenith Global, argued the tax only played a minor role. "The main impact of the sugar tax is an acceleration of existing trends," he said. "The movement by consumers towards diet variants was well underway before the tax was implemented."

Indeed, Kantar data shows diet drinks accounted for the majority of the market in the 48 weeks to 25 March 2018, before the levy came into force. However, they grew from 57% of the market to 61% of the ­market in the latest year.

Hall doubted price was the main driving factor behind that increase. "We've seen prices rise quite sharply but the differential between regular and diet carbonates hasn't changed all that much."