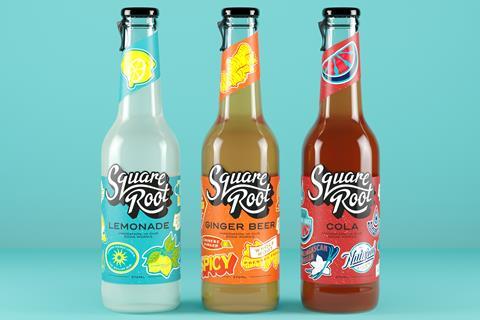 Square Root soda is to make its retail debut in Sainsbury's this month.
The upmarket soft drinks brand's core range – Lemonade, Ginger Beer and Cola – will hit the retailer's Future Brands bays from 14 February in 275ml bottles (rsp: £1.60).
The drinks all contain fewer than 80 calories per bottle and are made with no artificial additives or flavourings.
It was "exciting to be recognised" by Sainsbury's as "a bold and authentic brand ready to make its supermarket debut", said Square Root co-founder Robyn Simms.
"I believe Square Root is exactly what millennial consumers are looking for from a soft drink. I'm looking forward to seeing what this partnership brings as Square Root continues to push the boundaries of the soft drinks industry."
The brand also makes a range of non-alcoholic cocktails such as negronis and mojitos, and a selection of tonics. It last month launched a collaborative Grapefruit Soda with Manchester craft brewery and soft drinks maker Cloudwater.
It comes as Square Root is currently crowdfunding to finance the hiring of a full-time head of sales and a move into cans.