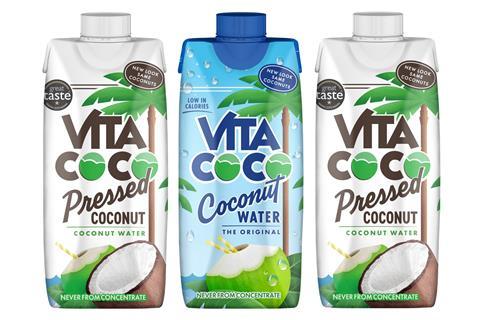 Vita Coco is rebranding its range of drinks for the first time in its 10-year existence, and has become B Corp certified.
The coconut water brand has given its logo a redesign and created new packs its EMEA MD Tim Rees said would ramp up "carry over and consistency across the formats".
"Consumer desire and interest is very different to 10 years ago," he told The Grocer.
"But you've got to be careful you don't alienate your core customer - as we've launched into new formats, one of the things we've found is it's been quite difficult to distinguish our products".

Coconut water was returning to growth after a long price war, he added. "The promotional bubble it created in the category popped." However, the recent proliferation of 'functional' drinks had led to "competition for airtime and fragmentation".
The new packs will roll out from March 2020.
Vita Coco (to be precise its European division) has also won B Corp certification, Rees revealed, with the brand "very excited" to be part of the group of sustainably-focused businesses. "The challenge is one we're excited about - it's a further layer for us to demonstrate that our business has a purpose", he added.
It comes on the back of a number of moves outside its traditional heartlands for the brand this year: in August it rolled out a duo of sparkling coconut waters billed as a "healthy alternative" to sugary drinks, and jumped on the CBD bandwagon with a trio of cannabis-infused drinks in October.
Further launches in new categories would ­follow, said Rees.