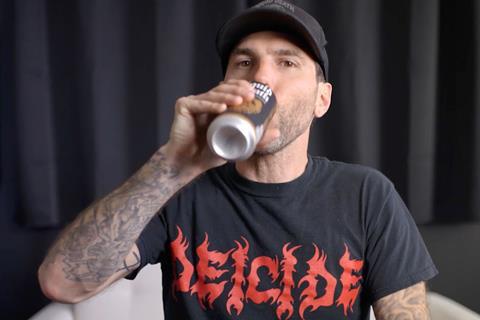 How do fmcg brands premiumise a necessity like water? Well, for Liquid Death, it's a case of sticking it in a fancy can and investing heavily in marketing.
From hiring a 'witch' to predict the results of the Super Bowl, to making voodoo dolls from the hair of an ex-Jackass stuntman, Liquid Death has built its buzzy reputation from doing the unexpected.
It's a well-trodden path, one that the likes of Logan Paul and KSI's Prime and, more recently, Jimmy Donaldson, aka MrBeast, have pursued.
The news Liquid Death secured its first UK supermarket listings added to the conversation that Liquid Death may well be the next big US brand to take over the UK. But where did it all begin?
Where did Liquid Death come from and why is it so popular?
Founder and CEO Mike Cessario lives and breathes marketing. Prior to having the idea for Liquid Death in 2017, he made his way working on campaigns for the likes of Netflix, Nike, Toyota and Nestlé.
It's perhaps his time with the streaming giant, working on social media for Stranger Things, that reflects most clearly in Liquid Death. From its eye-catching gothic branding to its shock-inducing viral videos and releases of limited-edition merchandise (Travis Barker co-branded enema kit, anyone?), it's sending fans wild. Backing from celebrities like Tony Hawks, Swedish House Mafia and Machine Gun Kelly have also helped boost the brand's cross-generational appeal.
Read more:
Through this approach, Liquid Death has disrupted a relatively uninspiring category and acquired cult-like status. It boasts 2.5 million followers on Instagram, 500,000 more than industry giant PepsiCo, and is closing in on Coca-Cola's 2.9 million.
Such is the level of devotion to Liquid Death, at least 250 fans are said to have tattoos of the brand's logo.
Liquid Death is sold at a premium
All this has enabled Liquid Death to persuade shoppers to part with sums rarely heard of for what is essentially canned water.
In the UK, a 500ml can of Liquid Death's Mountain Water in Co-op has an rsp of £1.99. Compare that with 65p for the same volume of Co-op's own-label still mineral water.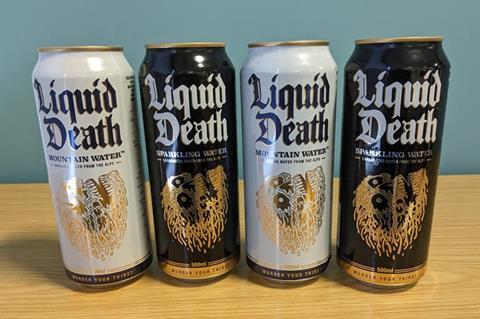 That's not to say it doesn't believe in the quality of its product. Flashy packaging and attention-grabbing stunts can only take a brand so far. That's why Cessario chose to source the liquid for Liquid Death from a deep underground mountain in Austria, claiming the natural minerals and electrolytes provide its water an edge over competitors. The brand has recently switched US sourcing to Virginia, however.
Just how big could Liquid Death get?
Liquid Death's growth trajectory so far makes for impressive reading. In 2019 – the year it launched in earnest – revenues were at $2.8m. The brand's 2022 revenues are unavailable, but it estimates retail sales hit $130m. It also valued itself at $700m as part of an investment round in October.
As far as UK and European expansion goes,listings with Co-op, Nisa and Tesco should drive penetration, as will a partnership with Live Nation to supply major music festivals.
Further NPD is also on the horizon. The brand sells a line of iced teas in the US, which Cessario has said are "fair game" for launch in the UK in the future. Two categories he doesn't forsee the brand moving into, however, are energy drinks and alcohol.
"We probably wouldn't jump into the energy drink category with products that have something like 300mg of caffeine in them," Cessario told The Grocer. "And we probably would never get into alcohol as a brand. Our focus is on better for you and healthy beverages."
Can anything stand in the brand's way? The decision to shift production to the US was met with surprise by some ardent Liquid Death enthusiasts, but has helped keep a lid on soaring costs. After all, at some point the brand's investors, who have pumped almost $200m into the company, are going to want to see it become profitable.
More scrutiny of its sustainability credentials – one of the brand's slogans is "death to plastic" – as it grows is also inevitable.
Right now, however, it feels like the sky is the limit for Liquid Death.