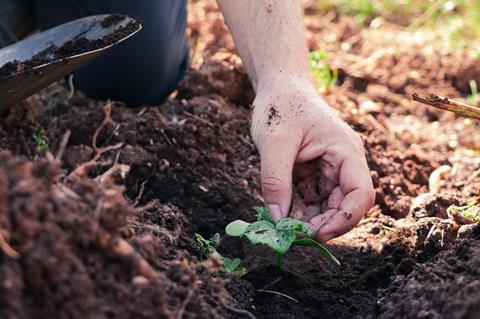 The food sector risks falling foul of new anti-greenwashing regulations over its unsubstantiated claims on regenerative agriculture, research by sustainable investor network FAIRR has shown.
The network – which is supported by investors with over $70 trillion in combined assets – studied the sustainability claims of 79 global agri-food companies and found that 50 (63%) referred to the potential of regenerative agriculture as a solution to the climate and biodiversity crises.
But of these 50 companies, some 32 had not put in place any formal quantitative company-wide targets to achieve those ambitions.
And only four of these companies – Nestlé, PepsiCo, JBS and Sodexo – had set financial targets to support farmers in their supply chain to incentivise the uptake of regenerative agriculture, added FAIRR, with Sodexo singled out for praise for dedicating 15% of its food budget to regenerative agriculture.
With no internationally agreed definition of 'regenerative agriculture' it warned there was "considerable variation" in how companies described its benefits.
"This lack of a clear definition makes regenerative agriculture claims hard to substantiate, creating significant risk in terms of incoming regulation and changing reporting frameworks," the network added.
The incoming EU Green Claims Directive – due to come into force in 2026 – would put an onus on any food company marketing in the EU to substantiate claims such as those on regenerative agriculture, with the penalty for non-compliance reaching up to 4% of annual turnover, FAIRR noted.
Similarly, new guidance from the UK's Advertising Standards Authority, due to come into effect this year, "stipulates that any environmental claims must be fully verifiable and substantiated", it said.
It comes as a new international framework called the Taskforce on Nature-related Finance Disclosures (TNFD) framework was finalised earlier this month, which named some of the biodiversity risks that regenerative agriculture is designed to mitigate – including nutrient pollution, loss of pollinators and poor soil health – as key risks food companies should report against.
Companies must be able to substantiate how they manage nature-related risks and opportunities, as well as their impacts on nature, the taskforce urged.
"From soybeans to fish food, the agri-food sector is a significant driver of biodiversity loss and greenhouse gas emissions as it turns commodities into the food on our plates," said FAIRR chair and founder Jeremy Coller.
"It's encouraging that two-thirds of the sector now report 'regenerative agriculture' as a way to mitigate this damage, but deeply concerning that only one third of these companies have implemented formal targets to institutionalise the take-up of regenerative practices in their supply chain."
FAIRR's research showed there were "more promises than progress in the agri-food sector", he added.
"Investors will want to see measurable targets that match companies' stated ambitions on regenerative agriculture if they are to ensure they don't fall foul of anti-greenwash regulations."