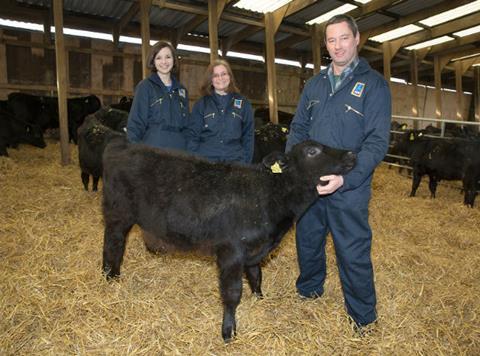 Aldi has made its first move into farming with an Aberdeen Angus calf rearing scheme in partnership with a Warwickshire producer.

The initiative, which is the first of its kind for the discounter, will see a herd of 240 Aberdeen Angus calves reared exclusively for Aldi by farmers Steven and Sarah Pass and their daughter Vicky at Chapel Farm in Atherstone, just three miles from Aldi's UK headquarters.

The scheme involves a two-step rearing and finishing process designed to "maximise calf welfare and meat quality". At two weeks old, the calves will be placed in a "high health" milk feeding unit with natural light, natural ventilation and plenty of space. When they reach 14 weeks they will be moved to a finishing unit, and grazed outdoors during the spring, summer and autumn months.

"Support for British farming is a longstanding commitment for Aldi. The launch of our own calf rearing scheme is the natural extension of that," said Tony Baines, joint managing director, Aldi corporate buying.

"By investing in Chapel Farm, we're strengthening our relationships with our suppliers and working with them directly to ensure our customers can enjoy the highest-quality British-sourced Aberdeen Angus beef."

In addition to providing Aldi customers with high-welfare beef, the scheme would give the Pass family "certainty around supply", the retailer said. The farmers are already planning to double capacity at Chapel Farm to a total of four rearing units and 480 calves in the next 12 months.

"Farming isn't always the most predictable of jobs, but partnering with Aldi has really boosted our sense of security. We've already been able to plan for the future with confidence," added Steven Pass.