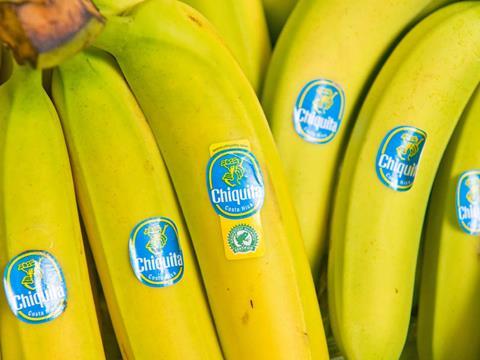 Asda is to switch its entire banana supply to sustainable sources from March 2016.

It said 93% of its bananas - the equivalent of more than 700 million individual bananas a year - would come from Rainforest Alliance-certified farms, with the remaining 7% sourced from Fairtrade Foundation farms.

It has previously sourced just 40% of its bananas from Rainforest Alliance farms, and faced criticism over its banana sourcing policy and aggressive pricing tactics. Asda scored just 49 out of 100 in a Fairtrade Foundation survey last year, which ranked the major mults on their sourcing practices based on social, economic and environmental criteria and the transparency of its supply chain. This compares with 90 for The Co-op, 88 for Sainsbury's and 65 for Tesco.

Retailers such as Sainsbury's and The Co-op sell 100% Fairtrade Foundation bananas, but Asda said it was unique among UK supermarkets in making a "public commitment" to Rainforest Alliance and called on its competitors to "follow our lead".

The Rainforest Alliance focuses on ensuring sustainable livelihoods by conserving biodiversity and is targeted more at farm management than the farmers. Meanwhile, Fairtrade standards focus primarily on tackling poverty and empowering growers.

"We have been working hard with our suppliers for three years to ensure our commitment to sourcing bananas from Rainforest Alliance-certified farms can be realised," said Asda's chief customer officer, Barry Williams.

"The banana supply chain can be complicated but through our strong grower relationships we know all the bananas we buy are from sources that work to ensure effective environmental stewardship and help workers enjoy safe working conditions."
Asda's announcement was welcomed as a "significant move" by Alistair Smith, international co-ordinator for NGO Banana Link.
"However 93% of the volume 'at the same price' will do nothing to alleviate the devastating price squeeze for producers," he warned. "The retail price wars on bananas continue to prevent real progress towards long-term sustainability for growers and their employees in producing countries."
Only Fairtrade carried a guaranteed minimum price, Smith added. "Our Latin American partners are also very concerned that Rainforest Alliance certification has not so far meant any credible guarantees on workers' rights, we can only hope that the stronger standards the certifier is announcing for 2016 will be enforceable."
Smith also raised concerns that small farmers were being squeezed out of UK banana supply chains. "Such a small volume sourced from Fairtrade certified growers leaves a doubt as to whether British retailers are still committed to supporting their future participation in the market, we trust that Asda will continue to work with Banana Link and partners to address these concerns."