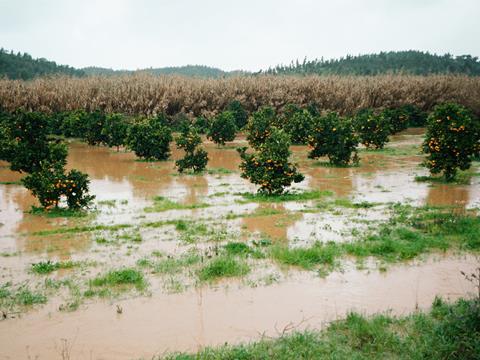 Supplies of clementines and other citrus fruit could be hit in the run-up to Christmas after storms led to flooding in key growing regions across Spain.

Heavy rain had caused coastal deluges from Murcia in the south east to Barcelona in the north east of Spain, said foodservice operator Brakes, which warned of "issues with quality and supply over the next month" in an update to customers.

Clementines, oranges and lemons had been heavily affected, with growers "unable to pick wet fruit as this causes cell breakdown" it said.
Lettuce crops have also been affected, with much of the Murcian crop under threat of pinking due to water damage, while beef tomatoes were also disrupted due to storm damage to greenhouses.

Areas such as Murcia's Campo de Cartagena were among the worst affected by the floods, said Spanish consortium Proexport, which warned it expected "a significant decrease in the quantities of product collected for Christmas".

Meanwhile, farms around Valencia had also been badly hit, said Poupart Imports MD Jonathan Olins, with flooded fields set to take a toll on the supplier's citrus fruit quality and shelf life. "It's been a big problem, not only with our citrus fruit but also with other crops such as tomatoes," Olins added.

He stressed it was too early to say whether Poupart's supply difficulties would be replicated within the major supermarkets. However, he warned large proportions of distressed cucumbers had already been rejected by the mults and had the potential to crash spot markets.
Other major suppliers to the UK such as G's Group had emerged unscathed from the floods "so far" said marketing director Anthony Gardiner. "We haven't seen the detrimental effects of previous floods in Murcia."
Wholesaler Reynolds had also been "working closely with our suppliers and hauliers, so our customers have been largely unaffected", added its head of marketing Andy Weir.
Gardiner, Olins and Weir all pointed to the recent unrest in France as additional challenges for the sector. Protests against proposals by President Macron to impose new fuel duties had held lorries up for up to 24 hours at French ports during the past week, they said.