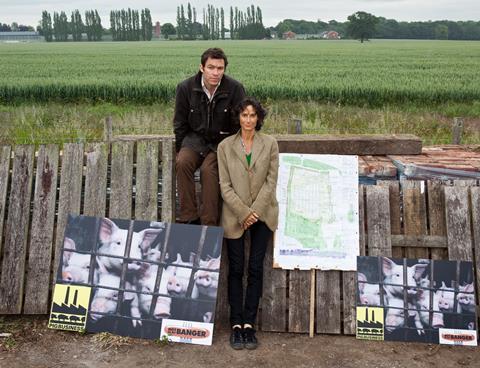 Controversial plans to build a pig mega-farm in Derbyshire have been withdrawn by its owners after it failed to achieve an environmental permit.
The plans, initially put forward by Midland Pig Producers in 2011, consisted of 14 pig houses on land in in the hamlet of Foston, with the capacity to hold up to 24,500 pigs of various ages – of which 2,500 would be sows – in addition to biogas combustion and anaerobic digestion plants for the treatment of pig manures and slurries.
It faced widespread opposition from local residents, environmental campaigners, animal welfare charities and celebrities including actors Dominic West and Sir Roger Moore, with more than 34,000 people signing a petition opposing the farm.
The proposals were refused an environmental permit on 23 February, after the Environment Agency stated it could not be satisfied activities could be undertaken on the farm "without resulting in significant pollution of the environment due to odour which will result in offence to human senses".
This prompted Midland Pig Producers to withdraw its application this week, with a spokeswoman for the producer – which supplies pork to processing giant Tulip – stating it had "reluctantly decided to withdraw our planning application to enable us to consider the options available to us".
"Unfortunately, the time taken by the Environment Agency to reach its conclusions has drawn out the entire process way beyond our initial estimates," she said, adding there should be a "fundamental overhaul of the planning and permit application process to prevent such a long-winded situation from occurring again".
The producer's decision to withdraw its application was welcomed by pressure group Farms Not Factories.
"Intensive, indoor animal factories belong to the past," said director Tracy Worcester. "We hope this means people are waking up to the importance of knowing where their food comes from as well as the hidden costs of intensive farming."
Midland Pig Producers declined to comment on its future plans for the site.