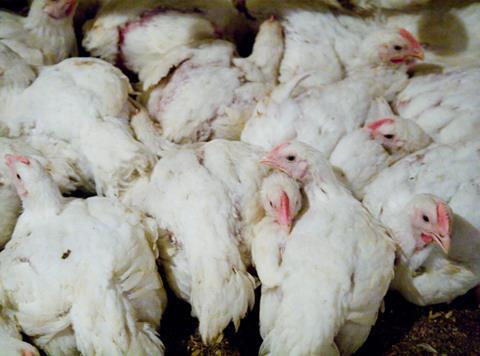 Sainsbury's has been accused of "backtracking" on its chicken welfare commitments by Compassion in World Farming.

The retailer, which received the NGO's Good Chicken Award in 2010, had "failed to deliver on its promise" to improve the welfare of its birds, CWIF claimed this week.

Sainsbury's had committed, for all its fresh chicken, to reduce stocking densities from 38kg/m² down to 30kg/m², provide birds with natural light and enrichment and move to a slower growing breed of bird within five years of receiving the Good Chicken Award.

But eight years on, less than 20% of Sainsbury's chicken was reared to higher welfare standards, and the retailer had formally withdrawn from the award, CIWF said.

In contrast, the other two recipients of Compassion's Good Chicken Award - Waitrose and M&S - have delivered on their commitments, with M&S also signing up to the new EU Broiler Welfare criteria, a unified ask from 23 NGOs which also includes commitments on humane slaughter and third party auditing.

"It's extremely disappointing to see Sainsbury's backtrack on its higher welfare commitments when other companies, like M&S, are committing to advance their chicken standards even further," said Compassion's director of food business, Tracey Jones.
"We expect a leading UK retailer like Sainsbury's who 'knows that animal health and welfare matters' to its customers to be at the forefront of the growing movement for higher welfare chicken."
Different approach

Sainsbury's insisted it had not abandoned efforts to improve chicken welfare, but had instead changed its approach from the one promoted by CIWF to one focused on welfare outcomes.
This gave its suppliers more freedom to try new technologies and methods, and had resulted in its chickens being "healthier than ever", it claimed, with hock marking reduced by 55%.

"While we share Compassion in World Farming's commitment to improving animal welfare practices, we have been clear to them we believe a different approach is more effective," said a spokeswoman.

"The way we work with our farmers is different, and has been for years. We've created a cycle of measuring, managing and continuously improving the health and welfare of our animals, and we believe the results speak for themselves."

However, Jones questioned whether Sainsbury's could achieve the same welfare outcomes without committing reducing stocking densities and switching to a slower growing breed.

"At high stocking densities and with a fast growing bird, the improvements aren't really enough for a good quality of life," she said.