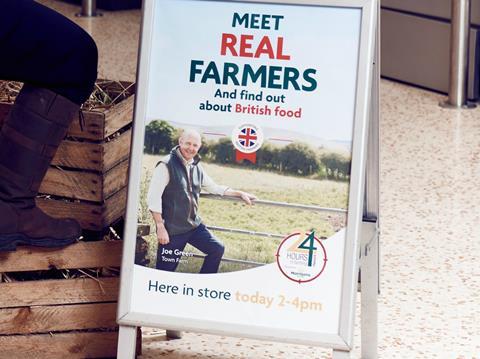 It's been a fiercely debated question since Tesco threw its lot in with the discounters last year by launching its Farms brands range, while Asda followed in April by unveiling its own budget Farms Stores brand.
Tesco in particular has forcefully defended the format. Indeed, UK & Ireland CEO Matt Davies described criticism of its new range as "rubbish" last March, telling The Grocer "it's bleedingly obvious where the source is".
And it seems that Tesco customers don't mind either, with 64% of baskets containing a product under the Farms brands, added chief customer officer Jason Tarry in April.
But not everyone has agreed. The Soil Association slammed the brands as misleading, while the NFU famously sought the advice of Trading Standards in an ultimately ill-starred complaint against the format.
So today's news that Morrisons is to shun 'fake farms' is an interesting move, which comes just a few weeks after it became the first of the big four supermarkets to commit to 100% British fresh meat after vowing to stop selling imported lamb.
It also coincides with the launch of farming industry magazine Farmers Guardian's 24 Hours in Farming campaign – which Morrisons sponsors – and cites consumer research that found 70% of adults object to the use of fictitious farm brands and want genuine farm names on packaging and branding.
'Fake farm' brands could "give an impression that food comes from a British farm, market or town when it may in fact be imported from overseas", it said, while noting farmers would be in Morrisons stores across the country to spread the word.
Head of British livestock Joe Mannion added: "Real farmers have an important role to play in explaining to customers how important real British food is, and how customers can tell whether food is from the UK or not."
If nothing else, this move by Morrisons was a cute PR ploy on a special day of promoting British agriculture, and it looks like it worked, as the national media lapped it up, while the NFU was also fulsome in its praise.
It also puts clear water between Morrisons and its rivals as – along with its plan to recruit more than 200 local food suppliers – it adopts a much more British focused sourcing policy.
Whether it has any impact on sales and halts the rise of the Tesco Farms behemoth is another matter altogether.