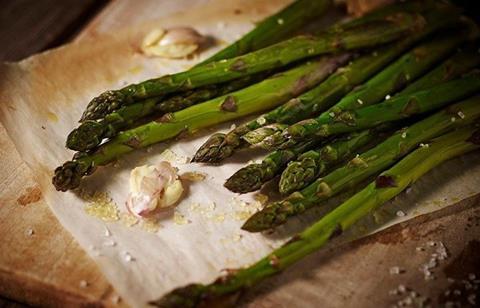 English asparagus has arrived on shelves three weeks earlier than usual this season, due to warm weather resulting in an early harvest.
Traditionally available from late April, Jubilee asparagus from a farm in Suffolk entered 400 Tesco stores late last week (rsp: £2.50/160g), followed by stocks of Ravenhill asparagus in Ocado (rsp: £3.99/250g) and early British asparagus in Waitrose (rsp: £3.50/150g).
The UK crop is likely to yield around 6.5 million kgs, which is around 340 million spears of asparagus, according to the Asparagus Growers Association.
"We're off to a great start, I think we'll have peak supply come the official season start which is great news for growers all over the country," said chairman Chris Chinn.
"This is a brilliant opportunity for customers who love English asparagus to enjoy it unusually early in the year," said Tesco produce buying manager David Daniels.
"Thanks to the mild weather of late, our grower in Suffolk has been able to produce enough asparagus to supply stores across the UK, which is quite a feat," he added. "The Jubilee asparagus is regarded as one of the best varieties in the world, and with its delicate sweet and nutty taste it's perfect for a healthy spring salad."
The news comes as UK Vale of Evesham asparagus was granted protected geographical indication (PGI) status under EU law last week, joining six other UK fruit and vegetables, including Jersey Royals.
Asparagus growers believe the PGI could be among the last to be awarded to UK products as other food items from the UK are "unlikely" to be entitled to apply after Brexit.
"The status means growers in the Vale – an area that extends from the Malvern Hills to Stratford-upon-Avon's local authority boundary – will be able to use the mark to distinguish their asparagus," said Angela Tidmarsh, Wychavon tourism officer.
"We're planning a host of activities for this year's British Asparagus Festival in honour of our new status. These include turning the Vale of Evesham green from 23 April – the official start of the asparagus season. Worcester Cathedral is holding a service of celebration and thanksgiving for Vale of Evesham Asparagus on St George's Day and there are lots more ideas in the pipeline."