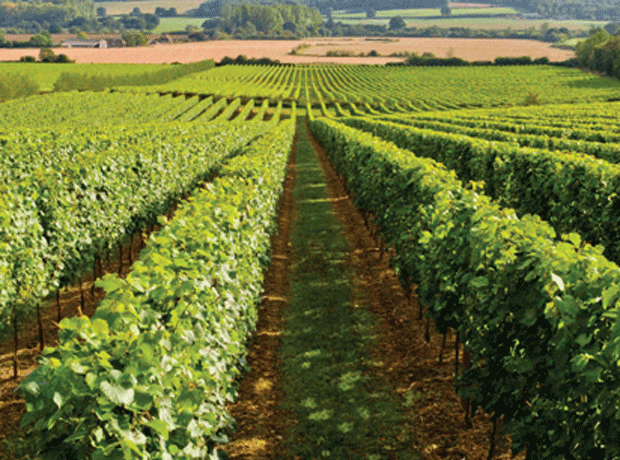 English vineyards produced a record 6.3 million bottles of wine last year – up 42% on what had been a record-breaking 2013.
News of a boom in production – revealed by the Food Standard Agency's Wine Standard Branch – comes as retailers continue to grow their English wine ranges, with Marks & Spencer recently adding English to its line-up and Waitrose reporting a 177% hike in sales of English and Welsh wines. Meanwhile, Harvey Nichols has worked with Digby Fine English to this month launch its first own-label English sparkling wine.
There is currently no official breakdown of wine styles produced here, but English Wine Producers and the United Kingdom Vineyards Association estimate at least two-thirds of production is now sparkling wine. The majority of the UK vineyard area – which has doubled in seven years to more than 2,000 hectares - is mostly planted for the production of sparkling wine. Chardonnay and Pinot Noir are the most popular varieties, with plantings of these two increasing 230% in the past eight years.
Growers benefitted from a long warm spring and summer in 2014, that brought quality and quantity despite a cool autumn.
"The last two years have provided excellent growing conditions for our grapes – great flowering weather and a warm summer," said viticultural consultant Stephen Skelton MW. "The vineyards have produced some very good quality grapes and volumes of still and sparkling wines."
English wines were undoubtedly on an upward trajectory, according to English Wine Producers marketing director Julia Trustram Eve.
"Over the last years we seem to be continually breaking our own records, and the 2014 figures surpass everything," she added. "We are noticing the uptake in English wine through the entire retail sector and the on trade. Export is another growing market. There is now a close collaboration between a number of producers already working on export initiatives. As volumes continue to grow, so will our efforts to develop markets both here and abroad."