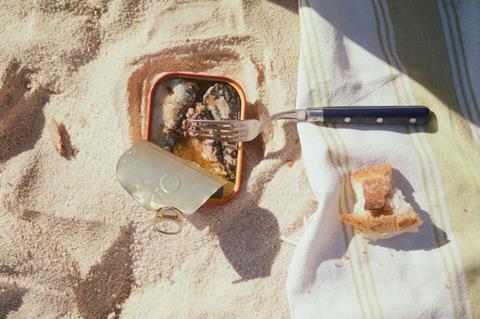 British fishermen have called on retailers to use UK-caught sardines in canned products, rather than fish from uncertified fisheries abroad.
Sardines in all own-label supermarket cans are sourced from Portugal and Morocco, according to analysis by The Grocer, while the lack of a domestic market compels most UK fishermen to export.
Portuguese and Moroccan sardine fisheries are not recognised as sustainable by the Marine Stewardship Council, though Morocco is part of a fishery improvement project. The Cornish sardine fishery is the only MSC-certified stock in Europe.
Environment secretary Theresa Villiers introduced the government's new fisheries bill to parliament this week with a pledge that the UK will "take back control of its waters" after Brexit.
However, questions have now been raised as to why fish caught in British waters is not always available to British customers.
"The supermarkets all say they're trying to do more and be more sustainable but here's an opportunity to buy local and they're not doing anything" said David Pascoe, a sardine fisherman based in Plymouth.
Instead, Pascoe is forced to send his catch to a processor in France where he is unsatisfied with the price.
"We don't seem to be getting the money we should be getting. We're getting less than we did 20 years ago."
Nick Howell, owner of The Pilchard Works in Penzance, said many supermarkets had been unwilling to use his sardines in own-label products due to higher costs.
Howell uses a premium canning method, though most British fishermen tend to use the same method as processors in Portugal and Morocco. "We've had conversation with some supermarkets about putting our sardines in their own-brand products, but they never went anywhere," he said.
The MSC would encourage retailers to start using Cornish sardines in their tinned products, said George Clark, MSC senior commercial manager.
"It seems strange that you can buy MSC-certified Cornish sardines in discount retailers in Belgium but not in the UK," he added. "We're keen to encourage many of our retail partners to start using the product."
A Lidl spokesman said: "Our tinned sardines are currently sourced from Moroccan fisheries due to the limited number of MSC-certified sardine fisheries in the UK. By doing so, we are able to continue providing our customers with products that are great in value, high in quality and sustainably sourced."
A Co-op spokeswoman said: "The Co-op is committed to responsible sourcing. All own-brand canned sardines are sourced and labelled to Sustainable Seafood Coalition codes of conduct and information about our wild fish sources is publicly available through the Oceans Disclosure Project."