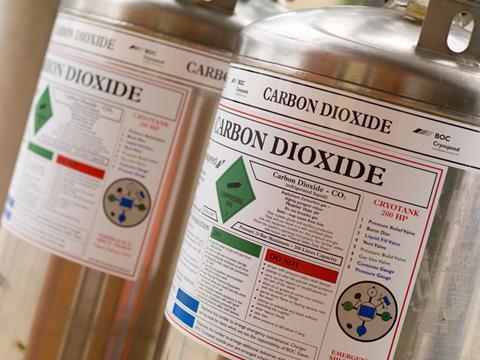 Food and drink manufacturers are considering investing in their own CO2 production facilities to avoid a future supply crisis, a new industry study has revealed.
Last summer's 'critical' shortage of the gas had exposed 'a structural fragility' in the UK's CO2 supply chain, warned the Global Counsel report, which was commissioned by the Food & Drink Federation.

To avoid another crisis, food and drink manufacturers must look to 'maximise the resilience of their CO2 supply', it said, adding some businesses were already 'looking into alternative sources of supply, including investing in their own production facilities'.
"The summer of 2018 saw a combination of unusually high demand and outages at key production facilities that left companies scrambling to locate and secure supplies," said Matthew Duhan, energy practice lead for Global Counsel.

"But as our report shows, this was not simply a 'perfect storm' of unfortunate events, but the product of structural weaknesses in the UK CO2 supply chain that need to be addressed if shortages are to be avoided in the future."
The problems caused by the Europe-wide CO2 shortage last summer were 'most acute' in the UK, which relies on just four CO2 suppliers - all of whom draw from the same 'limited sources' of the gas, the report found.

Supply of CO2 in the UK was also 'detached from demand' - making it particularly vulnerable to disruption, it said.
'Due to the very low margins on its manufacture, CO2 is only produced in the UK as a by-product of the manufacture of two products with significantly higher value: ammonia and bioethanol,' the report said.

'This means that when there is demand for ammonia or bioethanol, there is supply of CO2. But the price differential means that the reverse is not true.'
Cooperative approach
Investing in CO2 production was one way to address these problems in the longer term, the report suggested.
Although the upfront capital required to build large-scale production facilities was 'prohibitive' for most food and drink businesses, there was ' ongoing work on the possibility of cooperative approaches, for example consortia who might invest in CO2 production', it revealed.

Additionally, some businesses were considering 'smaller scale production where synergies might be found with investment in upgrading existing CHP or anaerobic digestion facilities, or even investing in new plants,' it added.

Food and drink suppliers could also improve the resilience of their CO2 supply chains by overhauling their procurement practices - taking steps such as contracting with more than one CO2 supplier, increasing contracted volumes against spot volumes and exploring additional storage options, the report suggested.
It urged the government to 'consult on, and publish, guidance on policy regarding prioritisation of CO2 supply in times of shortage' and called on suppliers of the gas to consider increasing their storage capacity.

"Last summer's events were a wake-up call that we need to make the UK's CO2 chain more resilient," said FDF director general Ian Wright.

"We look forward to working with our members, other sectors, industry and government on steps that can be taken to make the CO2 supply chain more resilient and diverse. That way, we can all be sure of enjoying crumpets for breakfast, chicken salad for lunch and a pint in the evening