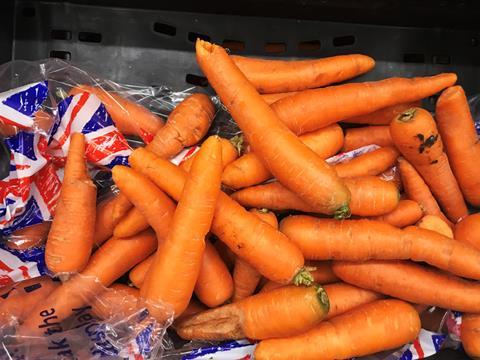 Supermarkets have started to relax quality specifications on a range of fruit & veg as the heatwave slashes volumes of available produce.

Morrisons, Asda and Aldi have been among the first to amend specifications on a range of fresh produce SKUs.

"We have relaxed our specifications for salads - including lettuce, cucumbers, celery, herbs and peppers," said a Morrisons spokeswoman.

Asda said it was now imposing less stringent requirements on berries and lettuce, while Aldi said it was monitoring the situation on a case-by-case basis.
Following warnings carrot yields could be cut by almost half over the next 11 months, cracked and misshapen produce - which would usually be confined to 'wonky' ranges - was on sale at full price in some supermarkets this week. However, retailers insisted they had not yet amended their specifications for the vegetable.

Warnings of crop shortages have intensified during the past week, with growers of onions and apples reporting crops were being affected by the heatwave.

This year's onion yield is likely to be reduced by a quarter on last year, with both the number of edible onions and the size of the bulbs significantly reduced, said British Onions chairman Tim Elcombe. "Crops without irrigation are dying," he said. "Growers have been working round the clock, but there are a number of areas where water abstraction is being limited."

English Apples & Pears executive chair Ali Capper told The Grocer she was "concerned about the sustained dry spell". EAP growers were attempting to mitigate damage to their crop by placing mulch around trees to reduce evaporation, but potential shortages were set to be exacerbated by a reduction in seasonal workers, with 94% of EAP members reporting issues sourcing labour.