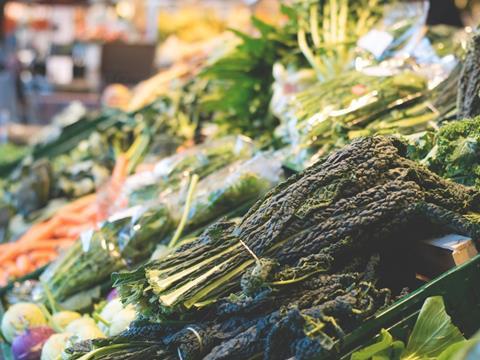 The government's planned post-Brexit shake-up of farm subsidies, with a new structure that rewards environmental improvements, has been slammed by organic groups for "sidelining" the sector.
Defra unveiled its "roadmap" for a "sustainable farming" system yesterday, designed to "support farmers to be economically and environmentally sustainable" as part of what it described as the "most significant change to farming and land management in 50 years".
Its long-trailed proposals will see the farming sector transition from an EU Common Agriculture Policy-linked subsidy regime based on area, to one that will pay out based on hitting sustainability targets through a new Environmental Land Management (ELM) scheme – which will be phased out by 2028.
However, the proposals have been decried by organic certification body Organic Farmers & Growers, for failing to consider the importance of organic food production to the wider sector.
While OF&G welcomed "a transition to more sustainable farming principles", CEO Roger Kerr said he was "bewildered" by what looked like a "roadmap to nowhere".
And without addressing the sector's concerns, the long-term viability of organic production could ultimately be threatened, he suggested.
"There's a glaring hole in the government's strategy as it fails to include organic in any ELM proposal or pilot scheme, as well as lacking any financial detail for farmers to plan their business strategies for when the ELM scheme begins in a little over three years' time," he said.
"Defra outlines the need for 'sustainably grown, healthy food produced profitably without subsidy', while taking steps to improve the environment, improve animal health and welfare, and reduce carbon emissions. Yet if government truly wants to fulfil these objectives, organic must be properly recognised for its role in delivering against those targets."
Kerr said the government was proposing a "pick and mix" approach of its scheme's environmental features, without acknowledging the integrated and holistic benefits of organic systems.
"The current system isn't working but simply cherry-picking specific elements of 'environmentally friendly' food production isn't going to address the multiple, complex and serious challenges we face," he added.
"Without recognition of organic farming within ELM, UK agriculture will not be in a position to take full advantage of the growth in organic food sales both in the UK and globally. This will lead to organic food being imported from elsewhere and the resultant public goods benefits felt elsewhere" Kerr warned.
"UK agriculture needs to take advantage of the growth in consumer demand so that the resultant public goods delivered by organic farming in the UK are felt by the UK population."
Fellow organic certification board the Soil Association shared OF&G's concerns, with CEO Helen Browning stating it was "disappointing to hear no reference to supporting organics as an 'oven-ready'" way of improving farming techniques, despite its sustainability credentials.
"ELM proposals do not include pilots for organic support," she added. "At the same time, we need to move to paying farmers for the actual benefits of the environmental services they provide, moving away from the current constraints, which base payments on the income foregone when farmers take the environment into account.
"With market disruption, Brexit looming, weather patterns changing and the lifebuoy of CAP support rapidly deflating, there's a burning platform… but leadership, investment and a robust approach to protecting our standards in trade deals will be needed to ensure that all progressive farmers and land managers can make it through these choppy waters."
Defra has been approached for comment.