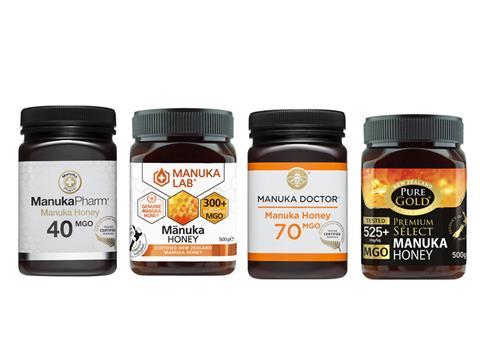 Holland & Barrett is testing every batch of Manuka honey twice to ensure customers purchase a genuine product.
Every batch of the 34 Manuka honeys it stocks will be examined to ensure they have the appropriate level of the natural compound methylglyoxal (MGO) to be considered Manuka honey. The health food retailer will then stamp each one to reassure customers of its authenticity.

Although this process is not a regulatory requirement in the UK, Holland & Barrett is following the lead of the New Zealand government's guidelines.

As part of its £1.5m marketing campaign for the honey, employees at Holland & Barrett's 1,000 stores across the UK and Ireland will educate customers about the testing standards it has implemented for the products. It is striving to ensure customers know what makes an authentic product and to avoid purchasing fakes that have been diluted or compromised.

Manuka honey is produced by bees that pollinate in Manuka bushes in New Zealand, and it is one of the most expensive and health-benefiting forms of honey available. Some consumers use it as an alternative medicine to help sooth a sore throat and improve oral health.
The Wonder of Manuka campaign has also seen Holland & Barrett's flagship Marble Arch branch change its name to Honey & Barrett and its sign covered in striking pink flowers for the next four weeks. Its shop window has also become interactive, allowing customers to watch its 30-second advert showcasing the health benefits of the honey.

Holland & Barrett is working with ITV Be as its key advertising partner for the Wonder of Manuka. The channel has played five-second 'blipverts' showcasing the campaign from midday on 1 August, followed by the full advert in the evening. This is accompanied by a series of 10-second direct response ads with digital display advertising and influencer partnerships, with the likes of TV presenter Laura Whitmore involved.

"The partnership with ITVBe will be great for us," Holland & Barrett's global chief marketing officer Caroline Hipperson told the Grocer. "Their target audience is those around 25-35 years old and we're looking to target that younger market's interest in Manuka and health and wellness products overall."

Holland & Barrett also has tractability back to beekeepers for the products, including for the four new brands it has introduced. These are Manuka Pharm MGO 40, rsp £48.99; Manuka Doctor MGO 70, rsp £55.99; Manuka Lab Manuka Honey MGO 300, rsp £59.99; and Pure Gold Manuka Honey MGO 525, rsp £64.99. All jars are 500g and available at H&B stores and online.

This is the first marketing campaign Holland & Barrett has conducted with ad agency Pablo as its creative and advertising lead, as well as Hipperson, who was recruited from Bacardi earlier this year.

"For too long the Manuka honey industry has been subject to mystery and confusion, and we want to put the power back in the consumer's hands. This campaign will celebrate Manuka's rich history and powerful properties," said Hipperson. "We're proud to be the first retailer on the high street to adopt these new guidelines and hope to see the rest of the industry following suit."

Tim Snape, executive creative director at Pablo, added: "In our new relationship with Holland & Barrett, we are constantly finding new and amazing facts about nature. We want to unpack these natural stories in our communications in a way that demonstrates Holland & Barrett's uncompromising pursuit of natural excellence in their products and brings consumers into their world of knowledge too."