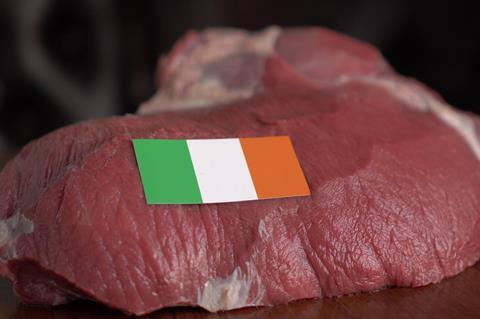 Irish food and drink exports to the UK remained "buoyant" last year, according to new data by Bord Bia. Though volumes did fall "marginally" amid "­unprecedented uncertainty".
Exports to the UK in 2020 were held to a 5% decline, falling from €4.5bn in 2019 to €4.3bn, according to Bord Bia's Export Performance and Prospects report, published this week.
This came despite a period of "unprecedented change and challenge that saw the largest disruption to normal market operations, including continued uncertainty around Brexit and towering pandemic challenges which saw the closure of the UK foodservice market", Bord Bia said.
However, the UK remained "a primary export market for Ireland", the report stressed, with 33% of Ireland's total food and drink exports destined for the UK last year, and the UK seeing an 8% increase in horticulture and cereals imports from Ireland to €207m.
The UK represented 44% of primary Irish beef exports – with extensive retail channel demand counteracting the significant decline in foodservice to post a 1% decline to €836m. Overall, the value of global primary beef exports was held to a 2% decline to €1.9 billion in 2020.
Elsewhere, primary pigmeat exports to the UK increased by 3% to €177m in 2020, and the live export sector also experienced growth, up 11% to the UK and valued at €107m.
However, Covid-19 and the closure of the UK on-trade had a significant impact on alcohol exports to the UK, down 12% in 2020, to €199m.
And while dairy continued its global growth trajectory into 2020, exports to the UK were down 13%, to €831m. Significant decline in UK foodservice sales and Brexit contingency planning were contributing factors, Bord Bia said.
The overall volume of Irish global exports fell marginally by 2% in 2020 to €13 billion (versus €13.2 billion in 2019). Bord Bia did not comment on the effects the current border disruption between the UK and EU had on trade in its report.
Irish exports to the UK had remained "strong and resilient during this period of uncertainty", said Bord Bia general manager for Great Britain Donal Denvir.
"Bord Bia has been working tirelessly to support food and drink suppliers in Ireland through the impact of the pandemic and Brexit. Notwithstanding what the future brings, the UK will remain the largest single destination for Irish food and drink exports as we continue to navigate challenges in 2021 and beyond.
"Our geographical proximity, shared language and shared cultural understanding ensure that the UK will remain a key strategic partner for Irish food and drink exports."