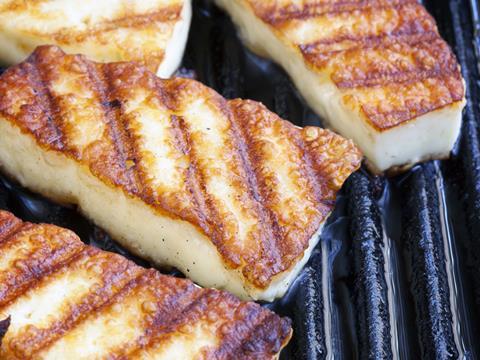 It's not been a great couple of weeks for grocery. As if the prospect of running out of beer, chicken and fizzy pop during the World Cup and barbecue season wasn't bad enough, news broke this weekend that Britain is on the brink of a halloumi shortage.
This looming cheese apocalypse isn't, apparently, anything to do with the CO2 shortage currently causing havoc in food and beverage supply chains, though. It's because farmers in Cyprus are struggling to meet demand for halloumi as Brits go bonkers for the goat's and sheep's milk semi-hard cheese. Which is a bit ironic, really, given Cyprus essentially stopped Britain from making its own halloumi when it won PDO status for the cheese back in 2016.
The EU decision to grant halloumi PDO status was very controversial at the time, with British cheesemakers arguing the product was of a broad Middle Eastern origin rather than specifically from Cyprus. They also warned the decision could affect consumer choice and called on the government to object on their behalf, which it did, but not with much gusto.
According to the Cypriot minister of agriculture Nicos Kouyialis, the UK's formal objection to the Cypriot application was "loose", while the letter from Defra accompanying it suggested the UK government was actually secretly supportive of the PDO move, which would "be a measure to build trust between the Greeks and Turks of Cyprus".
Which is all good and well, but here we are, two years later, facing a shortage of the cheese that Brits have become, frankly, a little bit obsessed with.
It's not the first time consumers have ended up suffering because politicians have ignored the advice of the industry, and it's unlikely to be the last. The EU's decision to slap 25% tariffs on US food and drink exports, including American bourbon, peanut butter and sweetcorn, is a case in point.
Supermarket prices for those products will now inevitably have to rise and Donald Trump could well respond with tit-for-tat tariffs that would devastate industries reliant on the lucrative US market, such as Scotch whisky. A trade war, as food and drink producers have pointed out, is a zero sum game.
Let's just hope that – especially in light of our increasingly poor relationship with the US – the UK government takes more heed of industry warnings as it negotiates our exit with the EU. According to leaked official analysis, a no-deal Brexit would result in national shortages in food, fuel and medicine. And that's the sort of apocalyptic scenario no one wants to see come true.