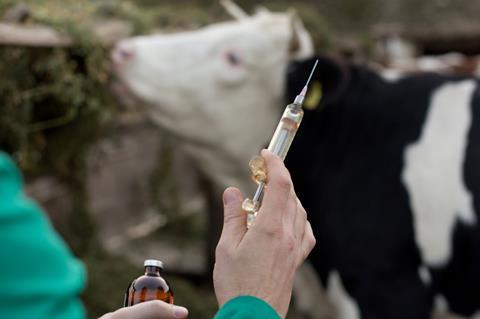 A coalition of major retailers, suppliers and industry bodies have backed an industry-wide national antibiotic database they hope will help retain the UK's place at the forefront of efforts to reduce antibiotic usage in livestock.
The Food Industry Initiative on Antimicrobials counts the likes of ABP, 2 Sisters Food Group, Cranswick, Pilgrim's UK and Hilton Foods among a list of 24 high-profile members that also includes most of the UK's major supermarkets.
It was established in 2019, in response to growing concerns the overuse of antibiotics in livestock could hasten resistance to medicines vital importance to human health.
Since then, almost all UK farming sectors now capture more than 90% of antibiotic usage data, the FIIA said, while usage in many sectors such as pigs and poultry had fallen significantly in recent years. But due to the complexity of their supply chains, there were still big gaps in information from the key ruminant sectors of dairy, beef and lamb.
Usage records were also kept on farm and in veterinary practices, and some significant databases were already being developed regionally or by producer groups, such as the Welsh Lamb and Beef Producers organisation. But until now no one collected that data with the specific aim of developing a national picture, the FIIA added.
And at the same time, proposed changes to the UK's Veterinary Medicines Regulations released at the start of February suggest the government wants to continue its voluntary approach to tracking the usage of antimicrobials. This differed from the approach in the EU, which now mandates national data collation across all key farm species, the group pointed out.
As a result, the new Medicine Hub database, created and managed by AHDB and accessible at medicinehub.org.uk, would centralise data and "retain confidence, reputation and access to export markets in the face of rising levels of antibiotic resistance globally", the FIIA said.
The ongoing success of efforts to continue a reduction in usage "now rests on the uptake of the hub, and the urgent challenge for the dairy, beef and lamb sectors is to get the level of data capture required", it added.
National data collection allowed for "wider data comparison across the industry, which is critical if we're to maximise improvements in antibiotic use across different sectors", said Tesco group quality director Sarah Bradbury.
Her comments were echoed by Morrisons head of sustainability and agriculture Sophie Throup, who added customer surveys showed "that while antimicrobial resistance may not be front of mind, it still remains a significant threat globally and we all need to play a part in addressing it".
A key way of doing this was by supporting "the responsible use of antibiotics in our supply chains – and the way we can gauge this is to understand how overall use in these compares with national use", she suggested. "For that we need accurate indications of national usage levels of antibiotics in each sector."
Gathering data on a voluntary basis also meant the UK could avoid the implementation of overly stringent mandatory guidelines, said independent sheep vet Fiona Lovatt.
"Even though individual farms must legally record medicine use, until now there has been no central online resource for collating this data at a national level, something that will change with Medicine Hub," she added.
"With improved measurement, we can help farmers manage their stock as effectively and efficiently as possible, while demonstrating the sector's responsible approach to antibiotic use to retailers, consumers, processors and within export trade negotiations."