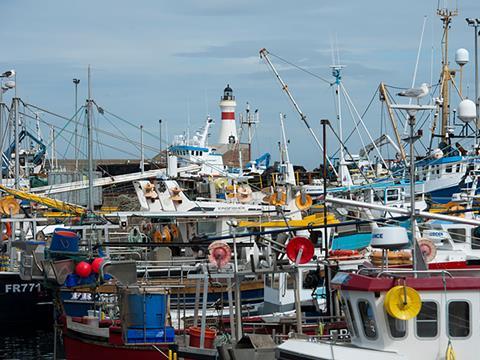 Next year's EU fishing quotas have been described as a "mixed bag" by UK fishing groups, which they say reinforces the need to leave the Common Fisheries Policy.
Members of the EU fisheries council – including a British delegation for the final time before Brexit – came to an agreement on 2019 catch limits in the early hours of Wednesday morning following "intense negotiations".
The 2019 quota for the Atlantic and North Sea includes an increase in the number of fish stocks managed at maximum sustainable yield levels from 53 to 59.
The total allowable catch has been increased for UK-caught species such as West of Scotland monkfish (+25%), western hake (+28%) plus skates and rays in the English Channel (+10%). TAC limits for southern horse mackerel, in addition to cod, sole and plaice in the Irish Sea, have also been increased.
However, the EU's largest cod quota is down by 35%, with the biggest blue whiting fishery down 20%, and the largest mackerel fishing area down 20%. Tighter controls have also been implemented to protect eel numbers, while a commercial ban on northern sea bass fishing will remain in place.
The European Council said the new quota arrangement would also address the issue of choke species in mixed fisheries – where fish with a low quota can cause a vessel to stop fishing even if they still have quota for other species. This would be remedied using a quota exchange mechanism.
Discard ban
2019 also represents the first year where the practice of discards – where crews throw fish back into the sea to fulfil quota and fish size criteria – is completely banned.
The move was described as a "milestone for the reformed Common Fisheries Policy" by council president Elisabeth Köstinger. However, the agreement also allows for an "urgent review" of the discard ban in the event of any unintended consequences.
A resolution to the choke situation was welcomed by Scotland's fisheries secretary Fergus Ewing, while the agreement met one of Scotland's main priorities, which was to see West of Scotland stocks protected from potential overfishing.
"The outcome is less than what we hoped but as much as was possible under the circumstances [of continuing Brexit uncertainty]," added Mike Park, CEO of the Scottish White Fish Producers Association. "The important outcome is that our fleets should now be able to fully utilise the opportunities available to them in 2019."
The negotiations and subsequent agreement were "challenging but acceptable for the fishing fleet", added Scottish Fishermen's Federation CEO Bertie Armstrong.
"In the end, it is clear that our best interests can only be put first when we have left the CFP and are able to decide who catches what, where and when in UK waters."
However, Ewing stressed one of the side effects of Brexit was the fact there was "no guarantee that Scotland and the UK government will have a vote on what happens for the foreseeable future". He added: "It's more important than ever that we do everything in our power to make the most of the current deal – as it could be in place for some time."