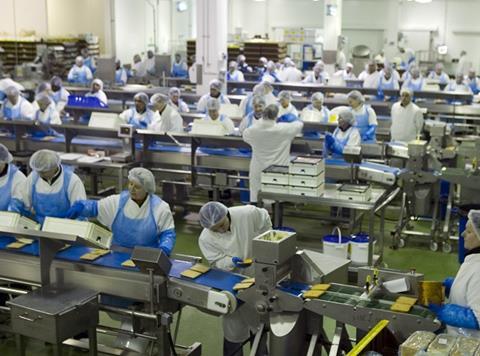 The number of modern slavery cases submitted to the National Crime Agency's national referral mechanism rose by 35% from 2016 to 2017, according to the Gangmasters and Labour Abuse Authority.

Agriculture, food processing and food packaging were among the top sectors to be affected by labour exploitation and modern slavery, the GLAA said in a new report published today.

A total of 5,145 cases were referred to the national referral mechanism (NRM) last year, the GLAA said, with the number of British victims growing by 362%.

Improved awareness of modern slavery reflected the increasing identification and reporting of suspected cases, the agency added. However, it cautioned that the scale of the problem could also be significantly worse than the NRM's data suggested.

Home Office data pointed to at least 13,000 cases last year - a figure described by the Independent Anti-Slavery Commissioner as "far too modest", with a significant proportion of potential victims remaining vulnerable, the report suggested.

The GLAA - which was given police-style powers last May - found evidence that some workers in the agriculture sector were given sporadic pay and at different rates, while there were also issues with some workers receiving payslips and wages that did not accurately reflect the hours of work completed.

This falsification made it appear that workers were being paid a fair hourly rate, the report added, while some supervisors also illegally deducted rent money from wages and "knowingly sourced illegal labour".

Criminal groups were reported to be trafficking foreign nationals into the UK for work in food processing, the report said, with intelligence also pointing to reports of under-18s working in the sector. There was also evidence that the food packaging sector had significant issues with unlicensed gangmasters.

The agency said there were more than 1,000 licensed gangmasters based in both the UK and overseas who supplied as many as 464,000 temporary contracted workers in the regulated sector. But it also warned there may be a drop in intelligence flows after Brexit as EU nationals would seek to remain under the radar of any law enforcement and immigration activity.

During its first 12 months in operation, the GLAA arrested 107 people, identified 1,335 abused workers and launched 181 investigations.